Andrew Shipp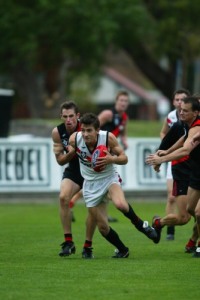 Andrew played with the Gembrook juniors, and 70 games at the senior club, wearing jumper no. 46. Many of these games were with the senior team while he was still eligible to play U/18's. Later on in his career, his origins have been described as "football backwaters" and "emerged from nowhere" but the Brookers know better!
1997 – won both the Senior Best & Fairest and leading goal kicker awards.
He never played in the TAC Cup as an U/18, but had played Eastern Ranges U/15's, so he arrived unannounced at Springvale during the 1998 pre-season. In fairy tale fashion he played in that year's Premiership side, won the League's Rookie of the Year award, and at year's end was drafted by AFL club Fremantle.
1999 – his first year in WA, he played 16 senior games, mostly across half forward, and was a Norwich Rising Star nomination. In total, Andrew spent four years at Fremantle, finishing 6th in the Sandover Medal in the WAFL competition.
2003 – Returned to Victoria and the VFL competition, playing with his mate Craig Clark and the Frankston Dolphins. (So just when you thought you had heard the last of the Shipp – Docker puns, he joins a team called the Dolphins!)
Represents VFL state team.
2004 - Returned to Gembrook and was a member of the 2004 Premiership team.
2005 - Represents VCFL state team.
2008 - Wins his second club Best and Fairest award after a sensational and easily his most consistent year for the club.
GEOFF SHIPP
Andrew's father played with Gembrook as No. 52 from 1991 – '95, playing 46 games. Geoff coached the seniors in 2007 and has also coached the the U/18's for several years both at Gembrook and Worri-Yallock FC, Club Secretary, and Chairman of Selectors.
Another father and son success story at Gembrook. Well done!
Compiled by L. Licciardi