Brant Chambers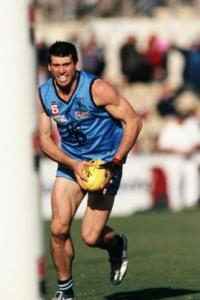 A former Gembrook Junior player, in 1998 Brant played for the senior club when he did not have either Eastern Ranges or AFL reserves commitments. At eighteen years of age, Brant had already achieved a great deal at junior level. The following extract is from the 1998 YVMDFL Footy Record article titled "Rising Star".
"Not only did Brant as a bottom age player for Eastern Ranges play almost every game, he also won the Club's goal kicking, he represented the state of Victoria in the Metro side. He was one of the co-captains at Eastern Ranges, but was unable to play in their first game against the Stingrays as he was called up to play in the Melbourne reserves, which for those people interested, he kicked one goal and one point and spent just over one quarter on the ground.
Later on Brant moved on to play at both Perth and Darwin clubs, and is currently playing for Sturt in the SANFL where he is the star full forward of the competition. For the second year in succession Brant kicked the magical 100 goals in 2008.

The last person to kick back to back tons in the SANFL was Rick Davies in 1983-84.
Brant has represented the SANFL state team on numerous occasions and all been named in the SANFL Team of the year.
MAL CHAMBERS
Brant's father Mal played with Gembrook from 1977 - 1983, totalling 104 games.
A great effort from father and son.