Merchandise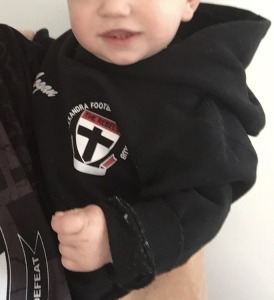 Do not forget to order your Club merchandise – polo shirts, warm up shirts @ $40, hoodies, vests @ $70, Club stubby holders @ $7, travel mugs @ $15, peaked caps and beanies @ $25, bumper stickers are free. The Alexandra History Book is also in stock, available at the Alexandra Newsagents @ $25. Thursday night dinners have two sittings, for juniors and then seniors after their respective training with main course and sweets – adults $15 and kids $10, everyone is welcome.
JUNIOR HOODIES AVAILABLE
As a result of expressions of interest re infant and small child hoodies, we are now able to supply a Club hoodie in a range of sizes as follows:
00, 0, 1, 2, 3, 4, 5, 6 and 8

These hoodies are a mini version of the Club hoodie and have the Club logo (slightly adjusted to fit) and writing on the back but no sponsor logos, printed instead of embroidered.
You can also get a name / nickname printed on the hoodie.
These hoodies are $40 each and can be ordered from Tara Carter or Ray Steyger.
There is a photo attached as an example.
When ordering, we need a size and name / nickname required.
From size 10 kids upwards to adult sizes, the hoodies are embroidered with full logo, writing on the back, sponsors logos and name / nickname and are $70 each.
Any enquiries can be by return email or on home phone 5772 2627. Thank you.
Ray Steyger