HOME PAGE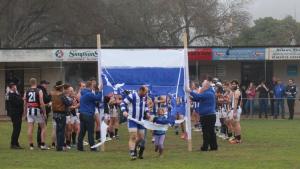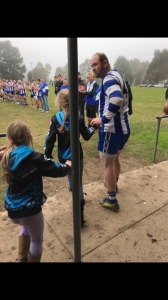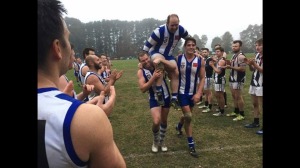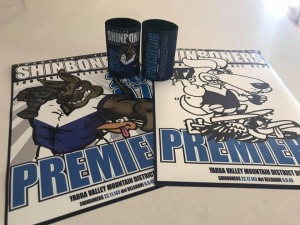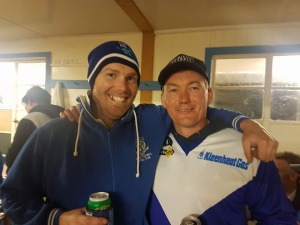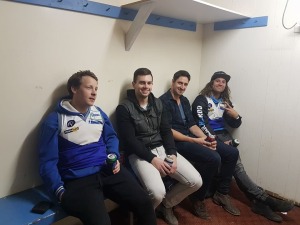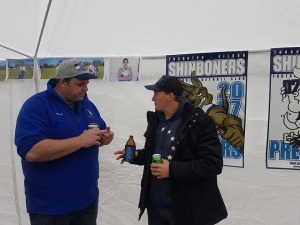 On Saturday, Thornton hosted Belgrave and being a top side it was going to be a real battle from the outset.
However the boys were in high spirits as it was Club President, John "Scooter" Creighton's 300th senior football match.
Along with the celebrations for the 300 game legend, it was also the 10 year anniversary of the 07' premiership. With all bar 3 of the ex-players in attendance, it shaped as a great day.
Everything was in place for the big occasion. Ash Creighton was busy during the week, constructing a fabulous banner for Scooter to run through with his 2 girls.
The day was kicked off with 3 netball matches and a solid fought game of reserves. A few old favourites managed to pull the boots on to help out in reserves. Loud applause and cheers from the premiership players made for a great game.
It was then time to line up at 2pm for the big occasion. Belgrave reserves also lined up in honour of the 300 game milestone which showed a lot of respect for the big fella.
With the scene set, John "Scooter" Creighton came out of the change rooms and was met by his 2 daughters to run through the banner. It was a very emotional occasion, being that he has played football for Thornton for some 30 years. Scooter managed to kick a goal in the big game and made a strong contribution up forward.
During the evening's awards, coach Dave Stirling gave a great speech and applauded his achievements. Being president of the football club and also having to prepare for senior football match is no easy feat. And whenever he is asked to step in to fill a roll or step up to play a senior match, he does so without question. This great club has been his whole life and without the likes of the "Scooter" Creighton's, Thornton may not have survived.
Celebrations went on well into the night, with a replay of the 07' grand final on the big screen, to keep all the punters entertained.
Thornton/Eildon district, football & netball club would like to say a big thankyou and well done to a fantastic clubman.
WELL DONE SCOOTER!!!!!
QUEENS BIRTHDAY WEEKEND
We were lucky enough to have some AFL legends at the club this weekend. Dustin Fletcher came along and assisted our coaches by taking Training Thursday night, helping out with Auskick Saturday morning and then staying during the Seville game to assist Dave and Jez to coach the boys out on the field. The club then enjoyed a Sponsors night where Dustin, Joe Misiti, Aaron Henneman and Rama stayed on to be our guest speakers and mingle with club players and supporters. It was a great day and night all round and we thank the boys for taking part in our Sportsmans weekend.