Home page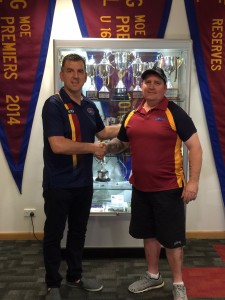 Youth Girls Football 2018
Moe Youth Girls Coaching Announcement
The Moe Football Netball Club is excited to announce the appointment of Chris Frazer to the position of head coach of the clubs inaugural Youth Girl's team for season 2018.
Chris comes to the club after a lengthy career in the game, which has seen him contribute both on and off the field in a variety of roles. He played his entire junior career with Moe, progressing from the Colts through to the Under 18's. As an Official, Chris was brought back to the game in later life when his eldest daughter took an interest in playing football. Initially at the Moe Saints Junior Football Club and Moe Lions Junior Football Club. More recently, Chris has been involved at Morwell Youth Girls for the previous two seasons. In 2016 he filled a variety of roles and in 2017 his enthusiasm for the game was recognised when he was appointed head coach.
In addition, well known Moe identity Dean Abbott is on board to oversee the entire operation. As one of the co-ordinator's in getting women's footy at Moe up and running, Dean has been tireless in his efforts so far, securing both financial support from local businesses and the backing of the clubs senior committee to ensure that Moe's women's football program will be one of the most professionally ran in the wider Gippsland area.
Unlike most women's teams, the Moe Youth Girls will be facilitated in conjunction with the senior club, which will not only bring new and more families to Moe but will also create a truly communal environment, and will showcase the fantastic opportunities that are available at Ted Summerton Reserve. It is envisaged that matches will be played on Sunday afternoons or as a marquee on Saturday evenings under lights after the men's senior game.
The Youth Girls team is open to players aged between 13 and 18. With a strong nucleus of enthusiastic players already signed up, the club is hopeful the rise of women's sport in recent years will provide a strong impetus for the club to become a fully diverse and inclusive organisation.
Dean Abbott 0427 200 285
Liesl McKay 0407 958 660