Umpire Talent Pathway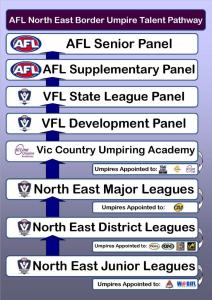 The Umpire Talent Pathway demonstrates the steps that an umpire needs to achieve to umpire at the VFL or AFL level. There is a structured education process that includes the National Umpire Accreditation Scheme to assist umpires to progress to the next level of their umpiring.
An important component of the talent pathway is being a member of the Victoria Country V/line Umpire Academy. The best umpires locally are selected each year into the academy and are invited to training sessions conducted by the State Umpiring Development Managers. From this group umpires are provided opportunites to umpire during the State Country Championships and other carnivals and matches around the state.
The talent pathway offers the opportunity for all umpires to achieve the highest level with the right commitment and dedication to training and self development. The AFL North East Border Umpiring Group is committed to providing an environment where umpires are able to achieve their goals to any level that may be, whether local or at the elite level.
If your playing time has ended or you just want to give it a go, please consider umpiring as an enjoyable aspect of the game. Anyone is welcome to come out to training and start your umpiring career today.