Home Page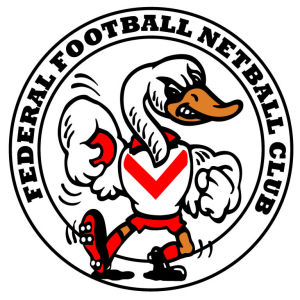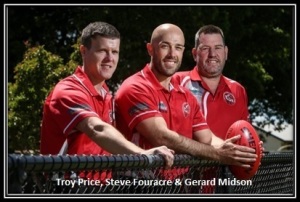 Welcome to the home of the Federal Football Netball Club.
As a club, we are continually striving for success. We pride ourselves on displaying good sportsmanship and teamwork, while providing a family friendly environment for its members.
2017 was a successful year with 6 teams making the grandfinal, bringing home 3 premierships in D & C Grade Netball and Under 16s football.
In 2018 we will be aiming to further build on these already strong values at our club.
~ Cheer, cheer the red & the white ~
News:
Season 2018 will see Gerard Midson joined by former Howlong premiership players Steve Fouracre (co-coach) and Troy Price (assistant coach).
Steve & Troy along with Middo bring with them years of playing & coaching experience and are expecting big things in season 2018. They have been working hard (along with our football sub-committee) to secure players (returning and new) for season 2018. In an early coup Daniel Hales (our senior best of fairest for season 2017) is returning to don the red & white along with other key signings Steve Bradshaw, Jimmy Scannell, Nathan Miller, John Fahey, George Galbraith, Tim Seymour, Skeet Sheather & Joel Bailey.
As the season beginning date approaches, we expect to have further updates regarding all other coaching appointments for both football and netball.
We welcome back Middo, his family and all returning players and supporters and extend a special welcome to Steve, his wife Lauren and their children Byron, Lincoln & Finn and to Troy, his wife Mel and their children Stella & Quinn (and the bub on its way) to the club.
Bring on season 2018.
Executive for Season 2018:
President - Craig Sheather - 0481 259 551
Vice Pres. Football - Jonothan Pole - 0439 412 622
Vice Pres. Netball - To Be Filled
Secretary - Lou Smith - 0409 761 510
Treasurer - Jodie Grzescka - 0409 036 288
Assistant Treasurer - Elise Wilson
If you have any queries please contact one of the above.
---
Training for season 2018:
This year our main training night is held on Thursday at the Corryong Recreation Reserve.
Football -
U/10 & U/13 at 4.15pm & Senior football 6.30 pm.
Netball - U/11 at 5pm, 15 & Under at 4.30pm & Seniors from 5pm.
Everyone is welcome to stay on for dinner at the club rooms following training.
Senior footballers and netballers also train on Monday nights with any junior kids welcome to particpate. Contact Gerard Midson / Chrissie McKimmie for more information.
---
Keep Up to Date - Follow us on
Facebook
, Download

Team App

:
We are aslo active on Team App, another great way to keep up to date with what is happening.
---
Presentation & Vote Count Night Season 2017:
Congratulation to all of our trophy winners for Season 2017 & thank you to all of our trophy donors & sponsors for the year.
Football
Under 13s
Best & Fairest Winner – Donor Upper Murray Pizza – George McKimmie
Best & Fairest Runner Up – Donor P & N Nugent – Jarrad Hunt & Thomas Gilcrist
Most Consistent – Donor K & S Wilson – Tyler Humphrey
Most Determined – Donor Beau McKimmie – Lachie Nugent
Coaches Award – Donor Paul Nugent – Isaac Norman
Under 16s
Best & Fairest Winner – L Collins Memorial – Riley Saxon
Best & Fairest Runner Up – Donor Len Paton – Mitch McLean
Most Consistent – P Whitehead Memorial – Jack Miller
Most Determined – Donor Charlie Paton – James Penman & Buckley Wilson
Most Improved – Donor Gordon Paton – Travis Bandy
Best Defender – Donor Peter Clarke – Alexander Nicholas
Leading Goal Kicker – Donor C & P Paton – Mitch McLean
Best In Finals – Donor T & B Attree – Riley Saxon
Reserves
Best & Fairest Winner – L & R Horsley Memorial – Josh Jarvis
Best & Fairest Runner Up – Donor I & L Tyrell – Connor Wilson
Most Consistent – Donor David Yule – Adam Moore
Most Determined – Donor Iridium Sports – Sam Paton
Most Improved – A Carmen Memorial – Brad Webb
Best First Year Player – Donor G & E Wilson – Jack Miller
Best Defender – R McKimmie Memorial – Warren Sinclair
Leading Goal Kicker – Donor Corryong Post Office – Matt Jones
Best In Finals – Donor Commitment Fitness – Josh Jarvis
Seniors
Best & Fairest Winner – G Whitehead Memorial – Daniel Hales
Best & Fairest Runner Up – T Sheather Memorial – Tom McKimmie
Most Consistent – Noel Paton Memorial – Dylan Haycraft
Most Determined –Greg Smith Memorial – Zac Tyrell
Most Improved – N McKimmie Memorial – Nick Sheather
Best First Year Player – J Paton Memorial – Riley Saxon
Best Defender – Col Sheather Memorial – Cameron Tyrell
Leading Goal Kicker – W Barber Memorial – Tom McKimmie
Best In Finals – Donor J & K Beer – Joel Bailey
L Paton Players Player – Tom McKimmie
Netball
15 & Under
Coaches Award – Donor Mel Bye – Isobel Norman
Coaches Award – Donor Lauren Tyrell – Maddi Miller
D Grade
Best & Fairest Winner – Donor M & L Bos Electrical – Megan Galbraith
Best & Fairest Runner Up – Donor Iridium Sports – Kate Butler
Coaches Award – Angela Moore
C Grade
Best & Fairest Winner – Donor Mildren & Coysh – Eilish Byrne
Best & Fairest Runner Up – Donor Agmate Rural – Tiarnee Hunt
Coaches Award – Eilish Byrne
B Grade
Best & Fairest Winner – Donor S & J Jarvis – Jess McLean
Best & Fairest Runner Up – Donor Corryong Newsagency – Georgia Wilson
Coaches Award – Jess McLean
A Grade
Best & Fairest Winner – Donor Galbraith Family – Sophie Pattison
Best & Fairest Runner Up – Donor Galbraith Family – Jahla Hunt
Coaches Award – Amy Paton
C McKimmie Players Player – Sophie Pattison
---
League Wrap Up Season 2017:
Premierships
Football ► Under 16s
Netball ► C Grade ♦ D Grade
League Results
Umpire of the Year – Leslie Tyrell
Volunteer of the Year – Jonothan Pole
Senior Team of the Year – Camo Tyrell, Tom McKimmie & Skeet Sheather
A Grade Team of the Year – Amy Paton, Jahla Hunt & Sophie Pattison
Reserves Best & Fairest Winner – Josh Jarvis
Reserves Leading Goal Kicker – Matt Jones
B Grade Best & Fairest Winner – Jess McLean
Under 16s Best & Fairest Winner – Riley Saxon
Under 16s Leading Goal Kicker – Toby Getzendorfer
D Grade Best & Fairest Runner Up – Meg Galbraith
D Grade Leading Goal Shooter – Meg Galbraith
15 & Under Best & Fairest Winner – Maddi Miller
15 & Under Leading Goal Shooter – Maddi Miller