Home Page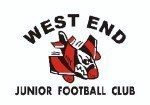 Welcome to the website of
West End Junior Football Club
Home Ground JC 2 and JC 1, Douglas Parade, Traralgon.
P O Box 540, Traralgon, 3844.
Club contact: Martin Poel - 0439 190 471
Email: president.wejfc@outlook.com
Please contact Martin Poel on 0439 190 471 if you are interested in playing football for the West End Junior Football Club.
upcoming events
Training is each Wednesday & Friday night from 430pm starting in February 2017.
U8 Wednesdays 430-530
U10 Wed & Friday 430-530
U12 Wed & Friday 430-530
U14 Wed 430-6pm Fri 430-530
U16 Wed 430-6pm Fri 430-530
All Abilities Start 2nd term on Wednesdays
Season start date is Sunday 23rd April
Please support our sponsors
Major Sponsors
Virtue Homes
RGM Group
Gold Sponsors
Cetnaj - Lighting Electrical & Data Specialists
Award sponsors
Jump & Climb, Shaky Spear Milk Bar, Big Al's Pizza, McDonalds, Stockland Plaza, Metalcorp, Inland Surf, Go Sushi.