Home Page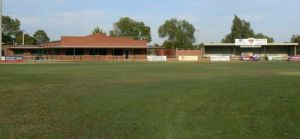 Welcome to the 2015 football and netball season, the off season has seen continue improvements in and around our Football precinct. With the iminent instalation of new goal posts our playing field will take on a modern outlook. The addition of an umpires changerooms\office has also improved our facilities as we look forward to hosting this years Grand Final at Waaia Recreation Reserve.
Richard Trimby is again the Club President for this season, his Vice President will again be Paul Stammers while Janet Brooks takes on the role of Secretary a new member of the Board we wish Janet well in this important role. Megan Elliot will continue in the position of Club Treasurer for her fourth term.
On field the recruiting commitee has been busy throughout the off season with the signings of a number of quality recruits. Headed up by new senior coach Rob Osborne who comes to Waaia with a wealth of major league experience both playing at the highest level in country football as well as coaching over the last five years as senior coach of Cobram and U18's Coach at Mooroopna. Rob's Assistant will be Shayne Lynch a team mate of Rob's from Mooroopna, a super fit mid fielder who has fitted in well at Waaia throughout the preseason as he set the standard.
Another significant signing was John Lucas from Cobram who is a past premiership player with the Yarrawonga Pidgeons and the last few seasons has been Cobram FC premier midfielder. Also we have seen the return of Mason Sprunt from Numurkah along with Tom Trewin. While others to join the Bombers for season '15 are Lloyd Hicks , a former Waaia junior, Troy Damon, John Johnston, Kieran Edwards and Aaron Shelton who returns after spending last season with Nathalia.
We thank and congratulate out going Senior Coach Greg Meyland on Four big years of commitment to the Club as a result, our junior players continue to develop and we look forward to seeing the likes of Brown,Scott,Coates,Trower,Rowlands, Knight and the like coming thru to play key roles in our Football Club.
We wish Sam and Sarah Richardson the very best as Sam enters the Coaches Box for the first time back in Melbourne with Eltham, all the best from all at Waaia.
The club would like to express their thanks to everyone for the efforts in 2014 in what was a good season on and off the football and netball playing arenas, to those who have decided to stand down from the Board we thank you for your hard work and great support of our club.
Socially ther are a number of functions being conducted through the seaon by our Social Club, check these out by looking under the Social tab.
This season the club has an App for supporters to download, the app is free and has up to date news on club events and happenings, to download the app go to the App store and search for Teamapp and follow the prompts, everyone is encourage to be a part of our expanding soacial media which also includes Facebook,
With the 2015 season approaching there is an air of excitement and anticipation and players, officials and supporters are keen for the first bounce of the ball.
Our sponsors are listed in the Sponsors menu, all supporters are encouraged to view our sponsor list, these business houses give awesome support to our club and we encourage all supporters to where possible support our sponsosrs
We welcome those families who will be representing the club in football and netball for the first time, we trust you will enjoy your time with Waaia.
Go Bombers
CounterData.com



visa australien Counter ---------------------------------------