Home Page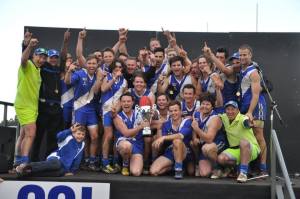 Picola United Football Netball Club looking ahead at an exciting finals series in season 2017
With the drought of senior premiership glory finally broken in 2016 with a terrific result on our home ground. which saw three teams; seniors, reserves and thirds all appearing in the grandfinal games. With two of the three flags secured it was a time of great celebration for the blue and white army.
With massive retainment and recruiting efforts in the off season both our football and netball departments have been achieving success throughout the 2017 home and away season.
With three rounds remaining of the home and away encounters it is a time to ensure we as a club remain focused and continue to work hard on and off the track and enter the final series fit and ready for the challenges ahead.
Be sure to come along and show our teams your support!
This is also a great time to thank all our sponsors and volunteers who make our club a great place to come and be apart of your committment and support are very much valued and appreciated by all of us at Picola United.
Picola United Football Netball Club Facebook - For Current Training & Social Updates