Home Page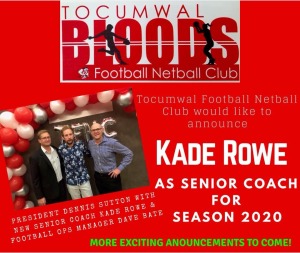 Welcome to the Tocumwal Football Netball Club Inc. website.
The home of The Bloods.
The Tocumwal Football Netball Club would like to congratulate Kade Rowe on his appointment as the 2020 Playing Coach of the mighty bloods.
Kade's assistant will be Luke Congram.
TFNC 2nds will be co-coached by Tim Brunskill and Kenny Chellew
3rds will be coached by Matt Wooden and Dylan Flanigan
4ths will be coached by James Bennett and Nathan O'Connell.
Office Bearers for 2019:
President: Dennis Sutton
Vice Presidents: Leisa Desailly & Jeremy Cardillo
Secretary/Manager: Greg Watmore
Treasurer: Eliza Baldwin
Contact Details:
Tocumwal Football Netball Club Inc.
PO Box 1
Tocumwal NSW 2714
1 Morris Street
Ph: 0408 881 772
If anyone would like to make a contribution to this website please email:
You are visitor number:
Counter Stats


sydney charters Counter