Welcome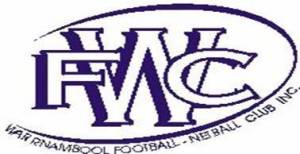 Warrnambool Football Netball Club Sporting Pulse Website 2016
CLICK HERE FOR WARRNAMBOOL FOOTBALL NETBALL SOCIAL CLUB OFFICIAL WEBSITE
WARRNAMBOOL FOOTBALL NETBALL CLUB 2019 SEASON

Matt O'Brien takes on his second term as Senior football coach for the 2019 season with much anticipation following consistent performances through the middle section of 2018 and look to perform past Elimination Finals stages this year. Josh Fary will control the Reserves team at 12pm which will develope a young list looking for Senior experience. Dan Weymouth also takes up a second term of coaching the 18.5's.
Under 16's ___________ Tim Hunt
Under 14's____________Ken Radley
Under 12's____________John Brooks
Under 10's____________Ben Martell
Auskick ____________Josh Walters/Paul Looney
Raewyn Poumako as Senior netball coach for the 2019 season.
Upcoming season is a work in progress with recruitment for Football/Netball completed, preseason training has progressed for any enquiries please call:
Wally Steere, Football and Netball Operations Manager can be contacted on 0438 063 317.