Corio Devils Home Page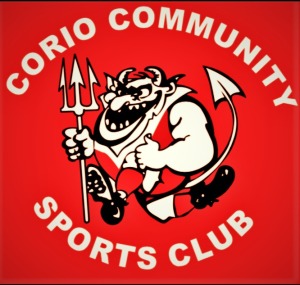 The Corio Football and Netball Club was formed in 1974, however is now known as
Corio Community Sports Club Inc.
We currently field junior football teams (U9 to U19) Reserves & Seniors.
We also have junior netball teams (U13 to U17) and Senior A, B, C & D teams.
Our club colors are red and white
Corio plays its home games at
VIVA Energy Oval Shell Reserve, Purnell Rd Corio.
The Corio Community Sports Club was established in 1974 and
competes in the Geelong & District Football League (GDFL)
The club currently has teams in both Australian Rules football and
netball competitions, from juniors to senior sides.

We see an opportunity to build on the
strengths of the community and offer a supportive friendly environment.
The Corio Community Sports Club is committed to being a leader in the
community through various opportunities we can offer
members.
We see a great benefit engaging local people into
volunteering roles at the club, which enhances their confidence and
connections.This is true for all age groups, abilities and cultures.
The club is proud to be a "Good Sports Club" under the Australian Drug Foundations "Good Sports"program.

Our core role will be to continue to grow and support our football and
netball sections at all ages and levels with increased support to engage
players from the Aboriginal and Torre strait islander community and
newly arrived communities.

For Assistance Ph: (03) 0439011003
Email: coriodevils@gmail.com
Postal Address: PO Box 11 Corio
3

214
If you have any historical information, photos etc
Please contact coriodevils@gmail.com with any information you may have