Welcome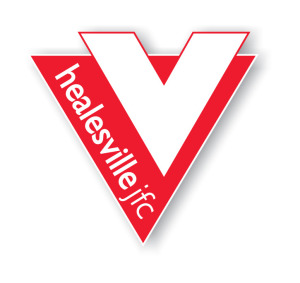 Go Bloods
Bloods Summer Update
Dear Bloods,
Summer is upon us and Queens Park is at it's spectacular best. The tip turkeys are everywhere, the pool's open, the new cricket nets are in full operation and the Canteen extension is finished and in use. How lucky we are.
Firstly the HJFC would like to wish you all a very merry Christmas and a happy New Year. We hope you have an enjoyable and safe holiday period.
Have you noticed the registration banners strategically placed around town? 2018 is going to be a year to remember at the HJFC and we are aiming to provide every child who has even a mild interest in footy an environment where they feel welcome, can hang out with their mates, train hard and play for the Bloods.
Girls Football
Girl's football is flying off the back of the AFLW. We will provide an opportunity for all girls from the community interested in playing. We are working hard to obtain funding to modify the girls toilets and make them much more female friendly.
Healesville Rotary have approached the HJFC and pledged significant resource and financial support to develop girl's football in our community over the next three years. With Rotary's assistance the HJFC will create and sustain a fantastic environment for every girl to play our great game.
We will be initially launching two female training groups with an U10/12 group coached by John O'Brien and an U14/16 group coached by Heather Christie. We really believe that we can field teams in each of the age groups (10, 12, 14 and 16) in 2018. We are continuing to pursue potential coaches for the additional age groups.
Once training commences and we can determine the numbers in each group and make the appropriate arrangements. If anyone knows of anyone with an interest in coaching either an U10 or U14 group please have him or her make contact.
Canteen
The Canteen is ready to go and thankfully Clare Moreton will again help us out as Canteen Manager in 2018. Thanks again Clare for putting your hand up, the new Canteen will hopefully make your job easier.
2018 Registration
Registration is proceeding OK. As we keep on banging on about, we need everyone's help registering. At this stage we only have half the registrations we'd hoped for so again please help us out and take 60 seconds to register so we can plan.
https://membership.sportstg.com/v6/regoform.cgi?aID=12594&pKey=9064c77717ad115137a46383e52f6b06&cID=36916&formID=36056
2018 Membership Fees
In 2018 Membership Fees will remain as in 2017. The Committee wants to ensure that playing for the HJFC in the AFL Yarra Ranges is affordable and will always endeavor to minimise fees:
Child 1 = $160
Child 2+ = $135
2018 Coaching Appointments
Thank you to all who put up their hand up to coach teams at the HJFC in 2018. Without you guys we have nothing. It's a massive commitment and the HJFC the players, the parents and community in general appreciates your efforts. The 2018 coaches are:
U9 – Zach Coleman
U10 – Andrew Crossman
U11 – Shane Newsome
U12- Simon Gordon
U10/12 G – John O'Brien
U14 – John Baxter
U14/16 G – Heather Christie
U16 – Marcus Howie
The HJFC and every parent in our community thank you guys for putting your hands up. Without you guys no one gets a game!
Lighting Upgrade
We have submitted an application to have the lights upgraded at Queens Park. We have internal funding saved to meet the HJFC contribution and we are now awaiting response to our application to upgrade. We will keep you informed.
2018 Committee
The 2018 Committee is as follows:
President – Toby Millman
Vice President – Dean Gebert
Secretary – Steve Ebbels
Treasurer – Deb Cameron
Registration Officer – Deb McCloskey
General Committee
Stuart Sissins
Nicole Brookes,
Erin Johnson,
Jacki Anderson,
Emma Newsome,
Lauren Gordon,
Kym Escourt-Barclay,
Lee D'Alterio,
John O'Brien,
Neil Milton,
Anne-Marie Ebbels
If anyone has any queries at all please don't hesitate in making contact via the hjfcsecretary@yahoo.com.au email address.
#BloodBrothers #BloodSistas #BloodsFamily
| | | | | |
| --- | --- | --- | --- | --- |
| eam | Coach | Phone | Time | Location |
| U9 | TBA | 0417 576 182 | Wed 5.00 – 6.00 pm | Queens Park |
| U10 | TBA | 0408 375 869 | Wed 4.30 – 5.30 pm | Queens Park |
| U11 Red | TBA | 0413 555 323 | Thu 5.00 – 6.00 pm | Don Rd Complex |
| U11 White | TBA | 0407 553 456 | Thu 5.00 – 6.00 pm | Queens Park |
| U12 | TBA | 0438 507 357 | Wed 5.30 – 7:00 pm | Queens Park |
| U12 Girls | TBA | 0400 604 164 | Wed 4.30 – 5.30 pm | Queens Park |
| U14 | TBA | 0417 373 296 | Tue & Thu 5.00 – 6.30 pm | Queens Park |
| U16 | TBA | 0407 368 292 | Tue & Thu 5.30 – 7.00 pm | Queens Park |
2018 Registration
Please register via the link below:
https://membership.sportstg.com/v6/regoform.cgi?aID=12594&pKey=9064c77717ad115137a46383e52f6b06&cID=36916&formID=36056
Registration are still open for all teams.
2018 Sponsorship
We are again on the hunt for sponsors. In conjunction with the HFNC the HJFC is offering the opportunity for sponsors to have fence signs at both Queens Park and the Don Rd Complex. The cost is $1,000 and the cost of the signs. Having signs at the two venues increases your exposure by well over 50%. Of course a range of sponsorship opportunities from Team Sponsor to Jumper Sponsor are available also. Please direct any sponsorship enquiries to Toby Millman on 0412 317 240.
Go Bloods
#bloodbrothers #bloodsistas #bloodsfamily