Welcome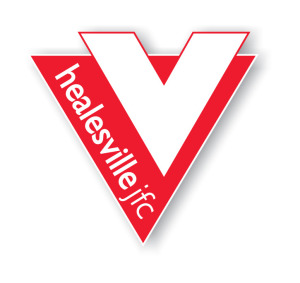 Go Bloods
Bloods Weekly Update
Thanks to another magnificent Healesville day, some great team efforts and a great opposition in Monbulk JFC we had a ripper Round 8 home game.
RNG Lawyers, who are sponsors of both clubs, provided each Monbulk and Healesville team with a medal that coaches awarded to the best opposition player. Next year we will hold the inaugural RNG Cup – thanks for your support RNG.
Unfortunately Round 8 had a few incidents highlighted by the Monbulk U14 player being taken to hospital by ambulance (he is fine by the way). With a couple of other occurrences relating to the opposition we thought it timely to remind our parents and members of the basic game day conduct ground rules:
the umpires during a game can award penalties against a team for the conduct of the officials in the box and for the conduct of spectators, and can even call for the match to be abandoned

the conduct of the players, the officials and the spectators is scored and conduct points awarded (these points count towards the best conducted team at the end of the season)

only the team manager can approach an umpire during or after a game – if you have concerns about a decision during a game, speak to the team manager who after discussing with the coach can then take the matter up with the umpire

complaints or concerns regarding the conduct of an opposing team should be brought to the attention of your team officials during or immediately after a game, we can then discuss with the opposition or the League if necessary

if you have timekeeping or goal umpiring duty please report to the team manager well in advance of the game
Canteen Upgrade
As you would have noticed the canteen is progressing well with the slab freshly poured. Work is continuing and the boys from Hay Constructions are on the job.
Mick Collins (U10 Assistant Coach) from High Edge Roofing is generously donating new roof sheeting and guttering for the awning that will be returned around the canteen perimeter. Thanks heaps Bec and Moo your generosity is greatly appreciated.
Team Photos
The team photos are done and dusted and I've been told we will have them returned in 4 weeks maximum. The day went well with Sharyn from Change of Focus Photography and the Team Managers coordinating the day with military precision - As soon as we have the finished products we will distribute them.
Interleague Results
Once again our league played some great football and to have the under 13 squad win the carnival, if was a bonus. Our coaches showed why they are highly regarded, by educating our players in all aspects of football for now and for the future.
Massive thank you to all our coaches, assistant coaches, team managers, runners, water carriers, trainers and all parents who made the effort to bring our wonderful players to training and to the games.
As chairman of the interleague and development academy, I was extremely proud of our players in the manner in which they played and the sportsmanship they showed. All players are a credit to their clubs and especially, their parents - Daren Pryor
2017 AFL Yarra Ranges Interleague & Development Academy Results
Under 12 Girls
Hills 4.2.26 vs Valleys 1.1.7
Goalkickers:
Hills: Z. Henderson-Rosaia, P. Adams, B.Burton, M. Oleskowski
Valleys: P. Byron
Best:
Hills: S. Peeters (Medal), I. Linde, B. Burton, P. Adams, C. Bateman-Hirst
Valleys: P. Byron (Medal), A. Edge, S. Oliver, M. Laven, B. Tipping
Under 11
Valleys 5.2.32 vs Hills 4.2.26
Goalkickers:
Valleys: J. Hook, M. Whelan, B. Cooper, B. Hull, B. Spencer
Hills: A. Stevens x 2, M. Moulday, B. Morison
Best:
Valleys: B. McBride (Medal), C. Anderson, B. Hull, M. Whelan, B. Spencer
Hills: N. Ford, B. Wilson, B. Coleclough, B. Morison, F. Daff
Under 12
Hills 4.3.27 vs Valleys 2.5.17
Goalkickers:
Hills C. Nyko x 2, L. Smith, T. Koelewyn
Valleys: N. Capauno, O. Simpson
Best:
Hills: M. Appleyard (Medal), N. Adams, C. Nyko, P. Hyett, C. Griffiths
Valleys: F. Whitten (Medal), X. Borg, O. Simpson, H. James-Black, N. Capuano
Under 13
Game 1
AFL Yarra Ranges 2.7.19 vs F&DJFL 3.0.18
Goalkicker: K. Dight x 2
Best: D. Ebbels (Medal), D. Chamberlin, G. Daff, S. Wicks, C. Smith
Game 2
AFL Yarra Ranges 12.18.90 vs SE Juniors 1.0.6
Goalkickers: D. Chamberlin x 5, L. McVicar x 4, G. Daff x 2, B. Humphrey
Best: L. McVicar (Medal), A. Dobbin, M. Milner, C. Smith, D. Chamberlin
Player of the Carnival : C. Smith
Under 14
Game 1
AFL Yarra Ranges 4.5.29 vs F&DJFL 7.10.52
Goalkickers: J. Nichalsen x 2, A. Smith, B. Syswerda
Best: B. Grimes (Medal), T. Ford, A. Sheldrake, N. Warton, D. Briggs
Game 2
AFL Yarra Ranges 5.4.35 vs MPJFL 4.14.38
Goalkickers: B. Grimes x 2, B. Lewis, A. Smith, N. Warton
Best: B. Grimes (Medal), B. Syswerda, D. Briggs, C. Cooper, M. Bradley
Player of the Carnival: B. Grimes
Under 15
Game 1
AFL Yarra Ranges 3.7.25 vs MPJFL 8.3.51
Goalkickers: O. Jessop x 2, H. Keeling
Best: T. Taylor (Medal), H. Keeling, M. Mutsaers, O. Jessop, M. Hall, J. Farrugia
Game 2
AFL Yarra Ranges 4.3.27 vs F&DJFL 9.1. 55
Goalkickers: A. Firrito x 2, H. Keeling 1, B. Peeters 1
Best: H. Keeling (Medal), A. Firrito, E. Cochrane, T. Taylor, M. Mutsaers, J. Farrugia
Player of the Carnival: H. Keeling
Under 16
Game 1
AFL Yarra Ranges 11.8.74 vs SE Juniors 1.4.10
Goalkickers: H. Greenall x 5, S. Santini x 3, T. Amarant, J. Tilly, J. Wall
Best: R. Smith (Medal), H. Greenall, T. Holland, B. te Boekhorst, C. French
Game 2
AFL Yarra Ranges 4.2.26 vs F&DJFL 11.18.84
Goalkickers: H. Finlay, S. Gibson, S. Santini, J. Wall
Best: T. Holland (Medal), J. Wall, F. Trott, T. Amarant, R. Smith
Game 3
AFL Yarra Ranges 7.6.48 vs MPJFL 8.6.54
Goalkickers: H. Greenall x 4, M. Donegan, H. Finlay, F. Trott
Best: H. Greenall (Medal), T. Holland, L. Henderson-Rosaia, T. Amarant, R. Smith
Player of the Carnival: T. Holland
U9
An early start with team photos. We trecked over to the soccer ground for our game against Monbulk. A great team effort led by our captains Hayden and Riley led to plenty of scoring. Well done
Goals: Thomas H 3, Milo North 2, Sammy Anderson 2, Ringo Harrison, Tyler Braden, Ashton Crossman, Hayden Green, Brylee Anderson
Awards: Ryder Dickinson, Milo North, Ashton Crossman, Samuel Drummond, Max Rimmer, Lachie Hamil, Ringo Harrison (#BloodBrother) Gideon Houlihan (#BloodBrother)



U10
Healesville weather was pretty good for this time of the year, sunny but cold, the boys hair was looking perfect ready for team photos. Leading the team onto the ground was Joseph and Riley as the captains, it was fantastic to Joseph run out even though he was in a cask and sling, still part of the team and all the junior footy excitement. They came up against a challenging Monbulk side, at the half way mark for the season you could see the improvements the team has made, using the whole ground and spreading out brilliantly. Well done, again another cracking game.
Goals: T. Barclay, A. Biddiscombe, C. Bradford, J. Collins, L. Frith, J. Newsome, H. Green,
Awards: J. Dossor, B. van den Broek, O. Moreton
U11 Red
Healesville 5 4 34
Monbulk 2 4 16
Awards: K. Marshall, K.Land, R. Brendish, R.Christie (#BloodBrother)
Goals: K Land 2, T Barclay, K Barclay, R Christie,
U11 White
Healesville 7 6 48
Emerald 4 0 24

It was great to play another home game at Queen's Park with the rest of the club and get another win. Once again we got off to a slow start with Emerald kicking the first two goals and having a handy lead at quarter time.

In the second quarter we played better football and at halftime we were only trailing by one point.

The second half of the match the boys turned it around and dominated the game. They played disciplined football and worked well as a team. It was great to see how well the boys looked after their blood brothers on the field.

We were well led on the day by Alex as captain and Seb as vice captain.

Our win was followed by a fun afternoon of laser tag and a BBQ dinner at Hedgend Maze. Thanks to our team sponsor Healesville Hotel.
Goals: Jack O'Connell 3, Jeremy Newsome 2, Bailey Hennessy , Liam Gellert,
Awards: Aidan Days, Seb Bolger, Brayden Reid, AJ Druitt, Bailey Rutley , Jack O'Connell (#BloodBrother)

U12
Healesville 11 8 74
Monbulk 1 1 7

Great all round performance by the boys, controlling all key areas on the field. Our backline was good again and the boys are really settling into their roles, Reece, Billy, Max, Marley, Josh, Pacey, Kyan and James all won a number of one on ones, worked together and kept Monbulk to just two scoring shots. Our mids were also good, with Cody's second efforts a real feature at the centre bounces. Our forwards worked well together too, with Joel dangerous and Jack eye catching with a number of blistering runs. The boys training form has been great the last few weeks - we need to keep this up as we try to stay ahead of the pack.

Goals: C.Anderson 4, J.D'Alterio 2, C.Nyko 2, J.Johnson, D.Vorhauer, J.Newsome
Awards: J.D'Alterio, B.Athanas, J.Pace, L.Hetherton, C.Anderson (#Bloodbrother),
U12 Girls
Healesville 10 6 66
Olinda FC 0 0 0
The girls had a great game this weekend and showed what they are capable of. The first quarter set the tone for the day and score consistent scoring through the game. Aleyna and Sarah F both scored their first goals in football this week and there was an opportunity to try players in some very different positions and they took on the challenge well.
Goals: M Harbinson, K Willemsen 3, S Frazzetto, O Frith, A Papadopoulos, M Sikorski
Awards: G Lavender (#Bloods), A Papadopoulos, N O'Brien, O Frith
U14
Healesville 9 10 64
Monbulk Gold 4 3 27
Goals: N Warton 4, W DeZylva 3, C Donegan 3, R Duncan 1,F Lever 1, R Dash
Awards: Jinja Shub, Riley Dash, Sam Gebert, C. Frazzetto, Seb McDonald (Bloodbrother)
U16
Healesville 5 3 33
Monbulk 11 5 71
Goals: Max Donegan, Cam Oude-Melink , Harrison Keeling, Peter Jones, Max Renouf, Dylan Sissins,
Awards: Luke Caracella, Max Donegan, Michael Hume, Jack Largue, Harrison Keeling, Dylan Sissins (#BloodBrother)
Round Nine - 25/06/2017
Under 9 Healesville v. Upwey Tecoma Black @ Upwey T 8.10am
Under 11 Healesville White V. Bye
Under 11 Healesville Red v. Gembrook Cockatoo @ Seville 9.00am
Under 12G Healesville v. Mt Evelyn @ Mt Evelyn 10.15am
Under 10 Healesville v. Olinda FC @ Olinda FC 11.35am
Under 12 Healesville v. Olinda FC @ Olinda FC 12.35pm
Under 14 Healesville v. Olinda FC @ Olinda FC 1.45pm
Under 16 Healesville v. Olinda FC @ Olinda FC 3.10pm
AFL Yarra Ranges Ground's Melway Locations
Belgrave: Map 75 D12
Gembrook - Cockatoo: Map 311 J2
Emerald: Map 127 G3
Monbulk: Map 124 J1
Mt Evelyn: Map 120 C3
Olinda: Map 66 K7
Queens Park (Bloods home): Map 278 D1
Seville: Map 119 K11
Sth Belgrave (Narre Warren East): Map 109 G1
Talaskia Park - Upwey Tecoma: Map 74 G7
Wandin: Map 119 C11
Wesburn: Map 289 C9
Woori Yallock: Map 286 F12
Yarra Glen: Map 275 C2
Yarra Junction: Map 288 D7
#bloodbrothers #bloodsistas #bloodsfamily
Training is in full swing for all teams, see times and location below:
| | | | | |
| --- | --- | --- | --- | --- |
| Team | Coach | Phone | Time | Location |
| U9 | Andrew Crossman | 0417 576 182 | Wed 5.00 – 6.00 pm | Queens Park |
| U10 | Shane Newsome | 0408 375 869 | Wed 4.30 – 5.30 pm | Queens Park |
| U11 Red | Simon Gordon | 0413 555 323 | Thu 5.00 – 6.00 pm | Don Rd Complex |
| U11 White | Chris Gellert | 0407 553 456 | Thu 5.00 – 6.00 pm | Queens Park |
| U12 | John Baxter | 0438 507 357 | Wed 5.30 – 7:00 pm | Queens Park |
| U12 Girls | Anne-Marie Ebbels | 0400 604 164 | Wed 4.30 – 5.30 pm | Queens Park |
| U14 | Marcus Howie | 0417 373 296 | Tue & Thu 5.00 – 6.30 pm | Queens Park |
| U16 | Dave Donegan | 0407 368 292 | Tue & Thu 5.30 – 7.00 pm | Queens Park |
2017 Registration
Please register via the link below:
https://membership.sportstg.com/v6/regoform.cgi?aID=12594&pKey=9064c77717ad115137a46383e52f6b06&cID=36916&formID=36056
Registration are still open for all teams.
Canteen Extension
We are really pleased to announce that the canteen upgrade will commence shortly. The HJFC will enter into contract with Hay Constructions to build the new facility. We expect the work to commence in the next 6 – 8 weeks and whilst it may impact upon our home games early in the season we will still have full operation of the existing canteen. A massive thanks to our local member, Tony Smith, the Yarra Ranges Shire and Hay Constructions for their assistance in getting this project off the ground.
2017 Sponsorship
We are again on the hunt for sponsors. In conjunction with the HFNC the HJFC is offering the opportunity for sponsors to have fence signs at both Queens Park and the Don Rd Complex. The cost is $1,000 and the cost of the signs. Having signs at the two venues increases your exposure by well over 50%. Of course a range of sponsorship opportunities from Team Sponsor to Jumper Sponsor are available also. Thanks to McKenzie Bus Lines, Healesville Toyota, Subway and Spill the Beans who have already recommitted I 2017. Please direct any sponsorship enquiries to Toby Millman on 0412 317 240.
Go Bloods
#bloodbrothers #bloodsistas #bloodsfamily