Welcome to the Carngham Linton Football Netball Club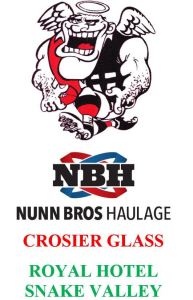 Online Home of the Mighty Saints
Senior Football Premiers -
1974, 1976, 1982, 1983, 1984, 1985, 1987, 1989, 1990, 1995, 1997, 1998, 2000, 2004, 2006, 2007 and 2008.
The following sponsors are kindly supporting the Carngham Linton FNC.
Nunn Bros Haulage, Crosier Glass, Royal Hotel Snake Valley, Millers Arms Hotel, Market Hotel, Bendigo Bank, G. Gay & Co, King Cars, DWH Cleaning, R&N Elite Painting Services, Paperfreight, Peter McErvale Real Estate, Imerys Minerals, George Hotel, Anytime Fitness, Apollo Bay Caravan Park, Ballarat Bakery, Ballarat Undercover Storage, Bright' n 'Bubbly Laundry, Cellarbrations, Core Signs, Elders Insurance, Meat' n 'More Butchery, Remington Insurance, T.C. Bricklaying, Wendouree Wholesalers & Wiltshire Auto Repairs.
Refer to the 'Sponsors' tab above for CLFNC sponsor details and website links.
Latest News
Pre-season News
After a well-earned Christmas break, pre-season training has re-commenced for the Carngham Linton Football Netball Club. We all look forward to another great season of sport and activities for the local community in 2017.
Senior grade footballers and netballers are again training at the Ballarat High School oval over the daylight savings period. Training will then shift to Linton for the first half of the season. Junior grade football and netball training will also commence at the Linton Recreation Reserve on Tuesday February 21st from 5.15pm.
The Carngham Linton FNC was pleased to announce the appointment of Matthew Beaston as non-playing senior football coach for the 2017 season. After a stint on the coaching panel with Royal Park in the Maryborough-Castlemaine League, Beaston is now returning to the Saints to take on the head coaching role.
The club has already had a busy off-season, with the inaugural Bendigo Bank/Carngham Linton FNC Swap Meet being held at Snake Valley on Sunday January 15th. The Swap Meet proved to be a great success in its first year, with over 70 stall holders and a large attendance from the general public. The club wishes to thank all the volunteers who helped make the day run so smoothly. A big thank you also to the Day Breakers Automotive Club of Victoria for their great work in helping to establish the event. We look forward to an even bigger and better Swap Meet in 2018.
The club is now accepting players to fill the five football and six netball teams that play each week. In the football, we field senior, reserves, under-18, under-15 and under-12 teams. In the netball, we have A, B and C grade senior teams, as well as under-17, under-15 and under-13 junior teams.
We are also encouraging more parents, members and supporters to get involved and assist in the many jobs required on game day. If you think you would like to help but are unsure of what is required, club members will be more than happy to train you. To join the playing group or adopt a volunteer role at the club, the following committee members can be contacted for assistance:-
Sam Richardson - President (0418 856 047)
Tim O'Brien – Junior Football Director (0418 153 528)
Ally Clack - Netball Director (0400 250 053)
JOIN THE MIGHTY SAINTS IN 2017!!!