Club History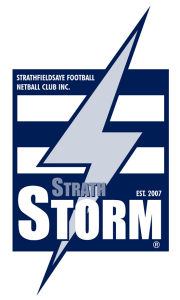 Although established in 2007, the Strathfieldsaye Football & Netball Club has been a work in progress over several number of years by a dedicated and passionate Strathfieldsaye Community.

The following details the Club's origins and important timelines leading up into the Club's very first match in 2009.
Strath Storm Club History & Timelines
1978: Formation of the Mandurang-Strathfieldsaye Junior football Club. This club was formed due to the need to facilitate the increasing population of junior footballers in the Mandurang/Strathfieldsaye district. The club commenced playing in the Bendigo Junior Football League.
Club later become known as Strathfieldsaye JFC (2003).
2004: Following recent population growth in Strathfieldsaye,discussions held with City of Greater Bendigo regarding the need to develop new recreational facilities in Strathfieldsaye.
2005: Development of the Strathfieldsaye & District Community Enterprise (SDCE). This organisation aimed to raise funds for infrastructure improvements within the Strathfieldsaye community. Very first model of community enterprise in Australia.
2005: Funding for development of new recreational facility in Strathfieldsaye secured through the City of Greater Bendigo, Victorian State Government and SDCE.
2005: Acquisition of "Ryalls" paddock on the Strathfieldsaye – Eppalock Rd (aka Wellington St), enabling the council to commence construction of the Strathfieldsaye Recreation Reserve.
2006: Construction of the Strathfieldsaye Recreation Reserve commences
Jun 07: Establishment of new recreation reserve created the opportunity for a senior football/netball club to be based at Strathfieldsaye.
Discussions were held with several existing clubs re: relocating to Strathfieldsaye.
These discussions proved unsuccessful.
Sep 07: Public meeting was held, expressing interest to form own senior football/netball Club.
This meeting was strongly attended by members of the S'saye community.
Late Sep 07: Strathfieldsaye Football Netball Club (SFNC) was formed.
Ray Patterson elected inaugural President.
Nov 07: Club became an incorporated entity.
April 08: Public meeting was held to determine which football & netball league to pursue (Heathcote DFL or Bendigo FNL). Public voted in favour 3 to 1 to pursue BFNL admission.
June 08: Executives of SFNC meet with board of BFNL regarding acceptance into the BFNL from season 2009.
Board of BFNL required a business plan to be developed documenting responses to board's criteria for acceptance.
July 08: Business plan developed and presented to BFNL board.
Aug 08: Board of BFNL admits Strathfieldsaye as 10th team to the Bendigo Football Netball League.
At this stage the club still had no identity. IGA S'saye becomes club first major sponsor for 3 years.
Sep 08: Club identity "Strath Storm" was created. Club to adopt playing colours of Blue & White hoops (Geelong), as these were the colours of the Strathfieldsaye JFC.
Sep 08: Completion of Multi use complex at Strath Rec Reserve.
Oct 08: Club sources coaches for both football and netball. Clint Whitsed appointed inaugural senior football coach. Louise Chilver appointed inaugural senior netball coach.
Sep 08 – Nov 08: Recruitment of footballers and netballers begin.
By mid November the club has recruited approximately 60 footballers and 40 netballers for pre season training.
Nov 08: Preseason training for footballers commence.
Jan 09: Strath Storm commences its inaugural season of competition in the Bendigo Football Netball League. 1st official game against Castlemaine on 11th April at home.
Mar 09: Membership drive in lead up to 1st game surpasses 500 club members.
Practice matches held against Nth City Ballarat and Elmore.
Apr 09: Club appoints Jono Gawthrop and Michael Pilcher as senior captain & vice captain respectively
11th Apr 09: Club competes in first ever game for BFNL premiership points against Castlemaine at home. Watched by a strong crowd (approx 3,000), Strath Storm have a dream start to BFNL competition, winning 6 of its 7 matches in the various football and netball grades.
Finished the 2009 season in 9th place on the ladder with 4 wins.
2010: Won 6 games to finish 7th.
2011: Darryl Wilson takes over from Clint Whitsed as Senior Coach of the storm. Won 9 games to finish 6th.
2012: Won 12 games to finish 4th after the Home and Away season. Then won the Elimination and First Semi Finals before losing the Preliminary Final to Gisborne.
2013. Michelson Medal winner Wayne Shultz joins Darryl Wilson as co-coach of the Storm.
Strath Storm make their first Grand Final after finishing the Home and Away season on top with 12 wins and 1 draw. Lost the Grand Final to Golden Square by 21 points.
2014: On the back of recruiting former St. Kilda AFL stars Stephen Milne and Steve Baker, The Strom wins in first premiership.
Milne kicks his 100th goal of the season during the grand final and Sam Mildren awarded Best on Ground after a dominant performance up forward.
2015: For the first time in the clubs short history every grade of football and netball make it through to the BFNL finals with five teams making it through to the Grand Final.
B Reserve takes out the clubs first Netball Premiership and the Under 18's football win it for the first time on the back of a dominant finals series.
Senior football completes the perfect season going through unbeaten after beating Sandhurst FNC in a nailbiter in what was one of the BFNL's lowest scoring senior Grand Finals.
2016: Bryce curnow announced as Co-Coach of the football with Darryl Wilson.
Shannon Geary joined by Jayden Donaldson as co-captains.
Seven sides make it through to the finals
17 & Under Netball nake their first Grand Final but go down to a tough Gisborne opponent.
Under 18's win back to back premierships against Sandhurst.
Breanna Dalrymple-Monro wins Betty Thompson medal (A Grade League B&F)
Chelsea Crapper wins B Reserve League B&F.
Bart Leahy wins Youth Coach of the Year.
2017: A year to remember
Lachlan Sharp becomes the first Storm footballer to kick 100 goals in a Home and Away season.
An the eve of finals, after 7 hears at the helm, Darryl Wilson announces he will step down as Senior Coach at seasons end.
All football grades make it through to the Grand Final.
Lachlan Sharp takes out the Ron Best and Michelson Medal double.
All three grades salute Grand Final day taking out the triple and the Senior side give Darryl Wilson the best possible send off with a come from behind win against Eaglehawk and a day that reached a maximum of 33 degrees.
Lachlan Sharp ends the perfect season taking out the AFL Victoria Medal - kicking 5 goals in the last quarter. Kallen Geary named Best on Ground.
Under 18's, Reserves and Seniors all win the 2017 BFNL premiership.
2018: