Sign-On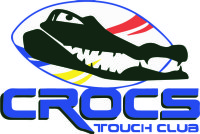 Signing-on to play Touch Football for our club is now even easier than before. You can now register to our club and pay your registration fees from the comfort of your own home!
All Touch Football participants, including coaches and referees, are now required to register online via Touch Football Online.
What Do I Need?
Before you start, make sure you have the following details:
Legal First Name (no nicknames or shortened names)
Surname/Family name
Date of Birth
Gender
Street address (your home address, not a PO Box), including suburb and postcode
Mobile phone number
Email address
Emergency contact details
Occupation
(If under 18) Parent/Guardian details

Full Name
Phone number
Email address
It's not compulsory, but if you wish to pay your fees online, make sure you have your credit/debit card handy. (Other payment options may be available so ask the club before you start)
Register Online
The blue button below will open a sign-on form that registers you to the club, but not to a specific team. You will be asked which division you wish to play for, however the club will decide where to place you.
Click here to sign-on to our club
or
If you have been given a TEAM CODE from your coach (or by the club), click the green button below instead.