Auskick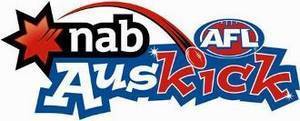 The Waverley Park Hawks JFC Auskick Centre operates on Saturday mornings at Columbia Park.
Register now at www.aflauskick.com.au (search for Waverley Park Hwks JFC). The registration fee is $90 and covers the cost of your Auskick backpack and trophy at the end of the year.
For further details on the Waverley Park Hawks JFC Auskick contact the co-ordinator, Brendan Heath:
e-mail: brendan.heath@parmalat.com.au
Phone: 0408 313 605
Rebate of Auskick fees for Junior Football Club Members
The Waverley Park Hawks Junior Football Club offers a full rebate on the Auskick fees for first time registrants with the club who play in any of our age group teams on Sunday in the SMJFL. Complete the Auskick Rebate Form to request the rebate if you are eligible.