Cheltenham Highett Uniform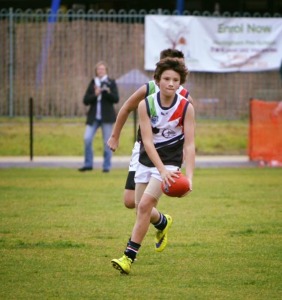 All players are required to wear the following for all matches:

Cost of game day uniform is $70.
Official jumper provided by the Cheltenham/Highett Football Clubs

Official SMJFL shorts Black(home) / White(away) purchased from CJFC

Official Black & Green SMJFL socks purchased from CJFC

Mouthguard, purchased from your dentist/chemist.
Optional Equipment:
Helmet

Bike Pants/Skins– SMJFL By-Law 9.10. Players who wear undergarments (i.e. compression skins) extending on the legs below the line of the uniform shorts must wear such shorts which are beige, black or the same colour as the shorts being worn and must not extend below the knee.
Gloves - Players are not permitted to wear gloves unless prior written approval has been given by the General Manager of the SMJFL. Such approval is at the absolute discretion of the General Manager and may only be given where a doctor's certificate has been provided.
Please note, stops in players' boots must not have sharp edges, and aluminium or stainless steel stops are prohibited.
Players may wear sports specific glasses that have been designed for use in contact sports i.e. shatter proof.
Further information and rules regarding club uniforms can be found in the SMJFL By-Laws.