CJFC Academy Program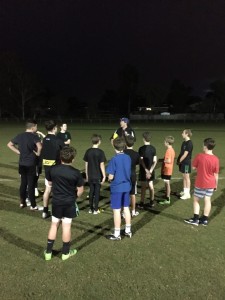 The Panthers Academy commenced in 2013 with an aim to develop our younger age groups (Under 8s-Under 14s).
The Academy has two parts to the program.
Part 1 – Co-ordinated by Josh Bourke, the aim is to give the opportunity for all players to attend sessions devoted to specific skills such as kicking, defensive, ruck work and forward play. This will be conducted over 3 nights on consecutive weeks with coaches giving every child from all sides the opportunity to attend one of more sessions. Coaches will be encouraged to attend to assist as well as learn skill development based exercise that they can implement into their training sessions.
Part 2 – Is an extension from part 1 where the under 11 – 13 age group coaches will nominate a specific number of players per side to attend two training sessions run by Josh Bourke. The players are there for extension purposes, training and playing with other players of a similar ability. The charter of the academy program is to prepare potentially interleague players for programs in the future, while also ensuring they take best practice in training and preparation back to their own teams.
For more information on the program please contact Andrew Bonwick – Head of Football