Cheltenham/Highett Panther Dogs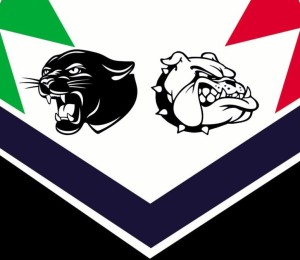 In 2014, after difficult seasons for the U13 teams of both the Cheltenham Panthers and the Highett Bulldogs, it became evident to Coaches and Team Officials of both teams that they would be most likely be uncompetitive in future seasons if they continued to play in divisions 1 or 2 of SMJFL competition.
Player enjoyment and satisfaction appeared to be affected by this lack of competitiveness.
In discussions with Coaches, Team officials and Committee representatives, the reason for the teams' lack of competitiveness was because of a lack of depth.
Competitors were selecting players for the higher divisions from squads of 40 - 60 players. The Panthers and Bulldogs only had enough players for one team each.
The development of ALL players was being affected. As a result, it was feared that the better players would leave to seek development with clubs with more depth that could support teams playing in higher grades. If the Panthers and Bulldogs continued with teams in higher grades those players who struggled to compete may leave the game and clubs disenchanted about football.
Conscious of this, Coaches, Team Officials and Committee representatives from each club discussed, considered and put forward a proposal to merge the Panthers' and Bulldogs' U14s teams to ensure the continued development of all U14 players for the 2015 season.
Philosophy behind the merge
In line with the 'Philosophy' and policies of both clubs, merging is focused solely to provide all players with an environment in which they will achieve maximum football development both at training and in the matches.
We aim to continue fostering an enjoyment of the game and the development of self worth and self esteem for all players.
The merger of the 2014 Under 13 teams has been a huge success for both the Highett Cheltenham Junior Football Clubs. This group is about to play their final season of junior football in 2018 as a merged Under 17 squad.
The Clubs also merged their Under 12 squads in 2016 as both Clubs difficult player numbers to manage. This group will also continue their merger as Under 14s in the 2018 season.