Club Website Policy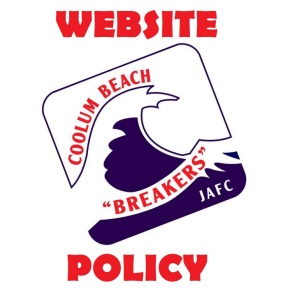 The Coolum Beach Junior Australian Football Club adheres to government Privacy laws in regard to its participants and members and their details thereof.
The Club in promoting a total experience for it's players does display photos of participants from time to time on its website which it encourages parents to enjoy and if they feel appropriate, communicate same to grandparents, relatives etc..
The Club does not attach the names of players to its "action" photos, and refers to junior players in any "match reports" by first name only (or using first letter of surname when 2 players have same given name e.g. Aaron P played a great game in defence and Aaron M kicked 2 goals).
Youth footballers are referred to by both given and surname as is the accepted 'norm' in relation to goals and best players, but not named in "action" photos.
If any parent/guardian does not want their child's photo to appear on our website, please advise us and we will ensure that it does not appear. You can do this by emailing us at coolumbeachbreakers@gmail.com
The Club's website is a wonderful communication tool that provides valuable information and also articles that enhance our player's AFL experience, however we fully respect everyone's right to privacy and any concerns that might arise from such publication.