Goal Umpire Role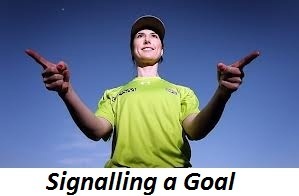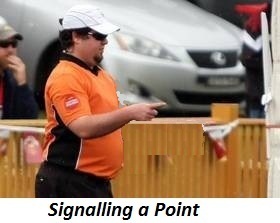 They Asked Me to be the Goal Umpire - What Do I Do Now!
Without the support of many volunteers, our Breakers teams would never make it onto the field each week, and believe us we are very grateful for your wonderful support.
Being handed the goal umpiring flags is one of the best/crusiest jobs to get and apart from a few signals etc... the main thing is to make the correct decision (is it a goal, point or neither) and (from U12's up) recording the correct score throughout the game.
If you know the signals etc.. so much the better, but don't sweat it - perhaps even catch an AFL game on TV to pick up some pointers!
In the end we all want the fair, correct scores to be recorded.
Here are some general tips, and again our thanks for your support of the Coolum Beach Breakers
Roles of the goal umpire
It is the very important responsibility of the goal umpire to:
• Be the sole judge of the score.
• Keep record of all the goals and behinds scored in the match.
• Confirm score with other goal umpire at half-time.
• Complete scorecard and submit to football committee member/match manager.
A goal umpire signals a goal when the ball passes between the two main posts by raising his/her hands and pointing with both index fingers and then waving both flags to signal the score to the goal umpire at the other end of the ground
A point is signalled by raising one hand in such a manner when the ball passes between one of the main posts and one of the smaller posts and then waving one flag
If the ball hits, or passes over a goal post it will be signalled as a point by patting the goal post, then signalling appropriately
Out of bounds (when ball has bounced before doing so) – signal to boundary umpire by raising your hand as you would asking a question at school.
Out on the full (when ball crosses boundary without bouncing or being touched) signal to boundary umpire by extending one arm sideways as if you were a 'one-winged airplane'
If ball the ball hits or goes over the behind post, you also signal 'out on the full' in the same way