Club History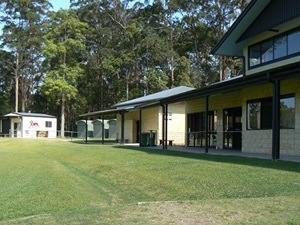 The Glasshouse Hinterland Lions was formed and incorporated in November 1996. 1997 saw the club take the playing field, with Under 10, 12, and 14 teams. There were 52 registered players. The club also held an Auskick clinic, with 31 kids taking part.
In 1998 the numbers increased to 100 boys and girls. The Under 14's finished the season as Minor Premiers and were narrowly beaten in the dying minutes of the Grand Final. Mr Bill Hoogen donated to the club a signed and framed St Kilda jumper (the year that Robert Harvey won the Brownlow Medal).
Important Dates

1999 - Introduction of an Under 8 team and an Under 16 team.
2000 - Seniors take the paddock for the first time.Coach Chris Humphrey.
2002 – SEQ div 3 seniors Grand Finalists. (Coach Bob Hedges)
2003 – Seniors played in the Wide Bay seniors competition and finals-Coach Bob Hedges
2004 – 06 Seniors return to play in Brisbane competitions – State Association Div 2. 2004 Senior's coach Darren 'Jigger' Giles, then Scott Stephenson coached 2005.
2006 - Chris "Hippy" Humphries coached Seniors. Kris "Minnsy" Minns (former GHAFC junior) & Paul "Big H" Hockey were the two players to have reached the 100 senior games milestone.
2006 - U12 Div 2 Premiers and AFLSCJ Club of the Year Award.
2008 - U14 Div 2 Premiers and AFLSCJ Club of the Year Award. Justin Sherman became our club's Brisbane Lions Adopt a Junior Club player.
2009 - U12 Div 2 Premiers. Michael Robertson AFLSCJ Auskick Co-ordinator of the Year Award. .
2010 - U12 Div 2 Premiers.
2011 - Re introduction of Senior team coached by Garth Kinderlin

2012 - Seniors Play finals under Coach Dan Barker
2014 - Masters (Over 35's) Team entered into the Queensland Competition
Presidents
1997 - 2000 - Paul Tresise
Nov 2000 - May 2001 Ben Haycroft
May 2001 - 2003 Paul Tresise
2004 - 2006 Craig Scrase
2007 - 2008 Phill McCombe
2009 - Jun 2010 Jon Flanagan
Jun 2010 - 2010 Rudi Bauer
2011 - 2012 Phill McCombe
21013 - Barry Mason
2014 - 2017 Craig Bales