About the Club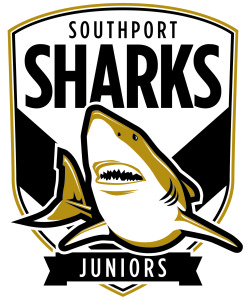 Southport Sharks Juniors is one of the proven pathway clubs for AFL players on the Gold Coast. Our membership and player numbers exceeded 400+ registered players and 24 teams in the Gold Coast League. The 2018 season saw many of our players from Under 12's to Under 17's selected to play/train in Stingrays, Southcoast schools competition, Gold Coast Sunsets, Gold Coast Suns & Brisbane Lions Talent Academy's and Queensland State Teams for both boys & Girls.
We would like to thank all of our players, parents, coaches, team officials, committee members and all the other volunteers for making Southport the Club we have all come to enjoy. Without you, the success and Club Spirit we have would not be possible.
Our goals for the 2019 Season are to continue the development of all players via experienced Coaches and improved facilities. Southport Sharks is a family club built upon the belief that all players, regardless of ability are welcomed, developed and enjoy their game of footy each weekend.
Home Grounds: Frankhauser Oval, cnr Musgrave & Olsen Avenues, Southport
Club Structure:
Juniors: Auskick, Auskick Girls, Superstars (U6), Under 8's, Under 9, Under 10, Under 11
Youth: Under 12 Division 1 & 2; Under 14 Division 1 & 2; Under 16 Division 1 & 2, Colts U18.
Youth Girls: Under 11, Under 13, Under 15 & Under 17
Champion Volunteers: With the focus of the Southport Sharks on being a family club, the Sharks have been blessed with an extraordinary level of volunteer devotion by so many families. As the 2019 Season fast approaches, new volunteers are always needed and welcomed.
2019 Committee:
President:
Vice Presidents: (Youth) & (Juniors)
Secretary / Registrar: Paul Redley
Treasurer:
General Committee:
Umpire & Medico Co-ordinator: Justin Vassallo
Coming Events:
Sharks Academy: October - December 2018 Level 3 Elite player development
Sharks Academy: January - February 2019 - Fundamental Skills development
Auskick: Season starts Saturday Feb 17th for a 6 week program
Superstars : Season starts after Easter Holidays
Past Champions:
Daniel Wise – Sharks junior player, progressed through to Captain the Sharks Senior team in 2009. Best & Fairest, State Captain and played over 100 games with the Senior Club.
Adam Devine – over 300 games with Sharks juniors from Under 8's. Over 200 Senior games and State rep player.
Rory Thompson – a Southport Sharks Junior player drafted to the Sun's at only 17 years of age. Rory wears the #16 jersey for the Suns heading into his sixth season of AFL Footy in 2017.
Club Development: 2010 saw the Southport Sharks carry out major refurbishment of junior facilities including the change rooms and canteen. At the start of the 2011 season, the major access ring road to the main oval was sealed to increase the availability of parking for visitors and members alike. The end of the 2012 season saw major drainage works completed on our bottom oval and training lights installed on the Village Green (our third oval). In 2013, we extended the concrete apron around the canteen to make it a more functional area and also entered a 10 year lease agreement with the Southport State High School for the use of their ovals as a training venue. We were succesfull in obtaining a government grant to assist the Southport State High school in upgrading their main oval facilities.
Sponsors: We are always interested in obtaining sponsors to assist in the development of our players and club facilities.
Our current sponsors are -
SOUTHPORT SHARKS AFL Club
Kollosche Prestige Agents
Bruce Lynton Land Rover
Kool Kids Learning Centre - Canteen
Telstra Australia Fair
Willis Bros
Kool Kids - Yacht street
Noodle Box - Oxenford
McDonalds Gold Coast
Rebel Sport
Southport Health & Fitness centre
Viva - Official merchandise
Jeffros Mobile Coffee