Seniors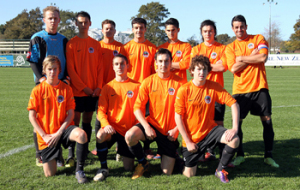 We run three senior mens teams and one senior women's team. We can enter teams in other competitions if we get sufficient interest and enough members joining the club.
Northern League Division 2 - the Club's First XI won the Waibop Premiership in 2016 finishing the season unbeaten. The first team also won promotion to the Northern League division 2 and will play in that competition in 2017 play in the top WaiBop regional competition - the Federation Premiership. The team train together with the reserves (development squad) on Tuesday and Thursday nights at the club from 6:00.
The reserves, will play in the reserves competiton for the Northern League division 2. Training on Tuesday and Thursday from 6:00.
Bay 2 - this team is for all those that enjoy playing, but are not seeking to play at a high level competition. It is a mix of ages, skills and fitness. So if you love playing football, but make excuses not to join a team, don't be put off - enthusiasm is the main qualification. Everyone is welcome to our training on Wednesdays from 6:00.
Women's Bay 1 - We entered a women's team in this competition for the first time in a few years, and are looking to build on last year. Training on Wednesdays from 6:00.