News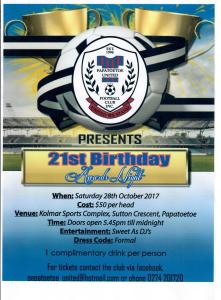 Club Photos – If you have a photo to collect - for 4-8's - please collect on 28th October at Summer Soccer at Kolmar - Hockey turf - from 9am to 1pm.

Upcoming Events
Senior Prizegiving/21st Celebration Dinner - Saturday 28th October.
Tickets are available from Anil - No Door Sales - $50 each.

Halal Menu - includes buffet meal and a complimentary drink with ticket.
Contact Anil 0274 201 720 or e-mail papatoetoe_united@hotmail.com

See Flyer attached.
RSVP by 25th October for catering purposes please.
Summer Soccer – This will start from Saturday 28th October on the hockey turf at Kolmar Sports Centre, Sutton Cres, Papatoetoe.
No fees, uniform or boots required. Running shoes only.

Please bring a water bottle and sunscreen.

4-8 years - 9am - 10.30am
9-12 years - 11am-12.30pm
Junior/Youth Prizegiving - list of recipients:

Player of the year: Most Improved:

9 Avengers - Ayush Naidu Jaisheel Singh
9 Tigers - Mateus Ismail Angad Singh
9 Kings - Luca Bland Arran Singh
10 Sharks - Peniamina Vai Dylan Gribben
10 4A - Aryan Prasad Aakrish Prasad
10 Red Falcons - Keanu-Lee Biddle Vedam Kumar
10 Diamonds- Alayna Parker Rhianna Prakash
11 Giants - Tamaho Perry Rayhaan Mohammed
11 Hunters - Adrian Kumar Regan Kumar
11 Cyclones - Saheel Singh Caleb Prout
12 Dynamos Sameer Mohammed Romit Prakash
12 Bula Boys - Krishnil Kishor Janesh Lal
13 Jaguars - Jonathan Kumar/Adarsh Nand Ali Ibrahim
13 Raiders - Jasraj Chadha Avin Kumar
13 Cowboys - Rohit Gherra Parmvir Sandhu

13 Southern Stars - Bhavandeep Kaur Jenna Te Ariki
15th Grade - Hamza Junaid Takshil Chandra
17 Predators - Balvinder Singh Gill Conner Hulme
17 Outlaws - Waqa Caqeta Shanay Kumar
Youth Sportsperson (Male) - Keiran MacShane - 9 Avengers
- Zynal Rustam - 12 Dynamos
Youth Sportsperson (Female) - Te Kaea Osborne - 10 Diamonds
Notable Achievement - Keely Osborne - 10 Diamonds
- Ali Ibrahim - 13 Jaguars
Goalkeeper of the year - Areya Prasad - 10 Sharks
- Soheil Raju - 13 Jaguars
Team Supporter - Abdul Jamsheed - 9 Avengers
- Ashok Gherra - 13 Cowboys
Presidents Trophy - Margaret Buckley/Jacqui Greenslade (9-11)
- Adrian Shackleton (12-17)
Well done to all recipients.
Outstanding Fees - please transfer to the following bank accounts:
ASB Bank
Junior and youth account #: 12-3044-0414225-00
Senior account:#: 12-3044-0414225-02
Please reference the payment with the player/s last name and date of birth.
Our Adapted Programme featured on a new series on Youtube - called Kick'n-it.
Here is the online link to Episode 1 of Kick'n It which features the story about our programme with Paul Ralph. He has done a great job with this group. Please have a look. This was filmed about a month ago.

We feature about 11 minutes into the clip. The rest of the clip is also very useful for the whole family.
Alot of great soccer tips and talent in the football community.

Ricki Herbert Football Talent Centre
For further details contact the Head Coach - Sammy Negash on 022 657 9172 or email mr.negash11@gmail.com
Committee for 2017:
President - Anil Ranchhod
Secretary - Vasanti Ranchhod
Treasurer - Leona Devere-Ellery
Committee Members
Tracy Gillespie
Jitu Patel
Andrew Greenslade
Vikash Prasad
Matthew Allan
Need a DJ for your next event? Give us a call and checkout our website/Facebook and mention you're from Papatoetoe United and get a 10% discount.
Fetu Ah Young - Professional DJ
Website: www.sweetazdjs.co.nz
Facebook: Facebook.com/sweetazdjs
SPONSORSHIP
The club is looking for sponsors for this coming year as well as ongoing sponsorship for the future direction of the club.
If you know of any individual/organisation that may be interested, please contact Matthew or Tracy through our club e-mail papatoetoe_united@hotmail.com or club mobile 0274 201 720.
A big "Thank You" to the following Sponsors
The Cheesecake Shop Manukau - https://www.thecheesecakeshop.co.nz/ or e-mail manukau@thecheesecakeshop.co.nz
Wendy's Supa Sundaes Hunters Plaza
Sweet as DJ's
All Marine Glazing
Midas Manukau
Indo Spice World
Extreme Indoor Karts East Tamaki
Just Cabins South Auckland
Sutcliffe Matson Lawyers, Papatoetoe
Electron Solutions
Super Liquor Papatoetoe
Paperplus, Onehunga
Sean Hart Photography
Shannon Corbett - Harcourts
For all queries - contact Anil Ranchhod 0274 201 720.