Home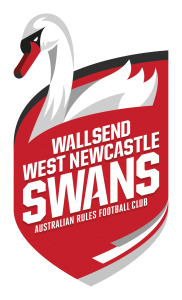 Wallsend-West Newcastle Swans
Home Ground - Bill Elliott Oval - Maryland Dr, Maryland
Seniors Training - Waratah Oval, Young St, Georgetown
Club Email: wallsendwestnewcastleswans@gmail.com
---
The local AFL Competition begins in 30th March 2019, with the Grand Final held in September.
Pre-Season training for the (Senior) Men and Womens Teams for 2019 will start in January 2019 at Waratah Oval, and Junior Pre-Season begins 20th February 2019 at Bill Elliot Oval.
No AFL Experience Necessary and ALL Training Sessions are open to new Players
---
VISION STATEMENT
To be recognised as the most community orientated and family friendly club within the Hunter Junior and Senior AFL Competitions, supporting and teaching the game of the Australian Rules Football to the children and families of the Western Newcastle and Wallsend Areas.
---
While the name; Wallsend-West Newcastle AFC is one of the newest in the Hunter Central Coast AFL Competition. We are steeped in History dating back over 100 years. With our long History and new name we are fast becoming one of the most progressive clubs in the Hunter Region. We have been fortunate enough to secure a number of Government/Community Partnership grants over the last few years to upgrade our club facillities to be about to better serve the community and our players for many years to come.
In 2019 the Wallsend Swans will be represented at all levels from Auskick, Under 9's, Under 11's, Under 13's, Under 15's, Unders 17's and have combined with another local club to establish a Under 14's and Under 17's Youth Girls Team.
We are also excited with the return of our newly re-established Senior Men and Womens Teams to continue to play AFL in our club colours with representation at the Senior level for Men in the Black Diamond Plate and Women in the GE Womens League competitions. This now provides players with the opportunity to develop their skills and continue to play from Juniors through to the Senior Level.
If you're male or female and you're interested in joining, you don't have to know anything about AFL. The Wallsend Swans have fully accredited AFL Coaches to help teach you the skills so you can safely learn to play the game we love.
---
---

For more information, contact: President: Steve Lewer 0459 082 162 or
Vice President: Darren Bird 0404 839 317