Umpiring is Everyone's Business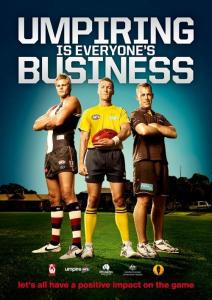 The AFL's 'Umpiring is Everyone's Business' campaign aims to communicate the following key messages –
Umpiring is everyone's business – whether you are a coach, player, parent, administrator, supporter, we all have a role to play in creating positive match day environments. Your attitude and behavior has a direct impact on an umpire's enjoyment of their role.
Umpiring is a significant issue for our game – the demand for umpires at community level is not being met by the supply of umpire's available (89% growth in appointments, 13% growth in umpires) – if the current trend continues, the game at community level will suffer. There is an annual umpiring turnover of 20 - 25%. Recruitment is difficult, but retention is the more significant challenge.
The main reason for this turnover and the challenge to recruit is the existence of poor match day environments that are generated by players, coaches, administrators and supporters (including parents). These environments consist of abuse and intimidation towards umpires.
Umpiring can often be a very difficult and challenging task and umpires do the job because of their enjoyment and love for the game – when the match day environment is poor their enjoyment deteriorates and this leads to eventual drop-out.
The Umpiring is Everyone's Business campaign initiatives focuses on using influential people within Australian Football to advocate positively about umpiring and for all participants within our game to take responsibility for their behaviour on match day.
Some strategies for the campaign include –
AFL coaches, players and media personalities umpiring community matches
AFL Coaches and Players shaking the hands of umpires prior to matches
'Thanks Ump' weekend which will involve AFL umpires wearing light green to signify the AFL's introductory umpiring program
Development of a TVC about the role of the coach and respecting officials
The use of influential people in positively advocating about umpiring such as Nick Riewoldt, etc
The coach, as the most influential person in the club, plays a significant role in the games ability to encourage positive match day environments. The campaign will focus heavily on coaches at community level and the role they play. Through the campaign we aim to communicate the following messages –
Coaches are the most influential people at any club and need to be role models in relation to behaving correctly on match day
Coaches need to advocate positively about umpiring to players, parents, supporters and club administrators
Coaches need to support and build good relationships with their local umpiring group
Female Umpires - Women and Girls Making their mark
Umpiring is a great way for girls and women to be part of Australian football. It provides an opportunity to get up close to the action while teaching outstanding life skills such as leadership, assertiveness and decision making.
The AFL has a number of umpire education and recognitions programs to support the growth and development of female umpiring. They are:
Why women umpire
Throughout Australia over 10,000 umpires take to the field each weekend to officiate in matches of Australian football: of thesem over 700 are female.
Women umpires make a tremendous contribution to our great game while developing great skills that will assist them throughout life.
Junior and Youth Girls Leagues
The establishment of junior and youth girls leagues also provides greater opportunity for young female participants to take up umpiring.
Umpires for girls' competitions can be sourced from the following groups:
Local umpiring group
Women's league players
Female talent academy players
Community football panel umpires
Mums, dads, brothers, friends – basic umpiring course required
Suspended players from Senior Women's or Men's competitions (as part of their penalty suspended players are reuiared ot umpire a game as determined by the Tribunal)
Tertiary students