Grand Re-Opening Day
The official reopening of the club house at the Zillmere Eagles AFC.
The viewing room will be a great addition to the facility and a great addition to O'Callagan Park.
Thanks to AFL Queensland and the Brisbane Council for there support to this project.
Last Modified on 25/07/2017 10:15
Local Legend - Thanks Sherrin Footballs
Congratulations to Tami Dunn, who is our first weekly Sherrin Local Legends winner!
Tami has volunteered her services to the AFL & Zillmere Eagles Football Club for over two decades. "Mother to many, friend to all and a shoulder to lean on. Secretary, First-Aid, Ground Marshall, Canteen, Taxi Driver..." these are just a few of the jobs Tami does around the club.
Tami will receive her very own personalised Sherrin and x4 Sherrins for the Zillmere Eagles.
Last Modified on 21/07/2017 12:45
Macca's Volunteer of the Month
McDonald's Brisbane and the AFLQ Brisbane Juniors want to celebrate and acknowledge the generous contribution of our club volunteers!
The Macca's Brisbane Volunteer of the Month is a special opportunity to recognise and reward the commitment of the McDonald's AFL Brisbane Juniors volunteers based on the McDonald's Brisbane and AFL QLD principles of supporting the community and encouraging kids to be active.
From early July volunteers associated with a McDonald's Brisbane Junior AFL Club can be nominated by their Club President via email. The nomination must include the person's name, club name, picture and a brief description (50 words or less) on this volunteer's contribution to the game. All nominations can be emailed to Tony Saunders on Tony.Saunders@afl.com.au by the end of each month of the promotion.
The monthly prize on offer is a Premium 2018 Brisbane Lions Membership valued at approx $465. The program will run for the months of July, August and September 2017, meaning we shall award 3 winners in total.
For more information please email Tony.Saunders@afl.com.au.
To keep up to date with nominations and winner announcements please visit us at our Facebook page.

Thank you to all the volunteers for their generous contribution to the game!
Last Modified on 10/07/2017 08:58
GET STARTED VOUCHERS RND 1O
------------------------------
The information in this email together with any attachments is intended only for the person or entity to which it is addressed and may contain confidential and/or privileged material. There is no waiver of any confidentiality/privilege by your inadvertent receipt of this material.
Any form of review, disclosure, modification, distribution and/or publication of this email message is prohibited, unless as a necessary part of Departmental business.
If you have received this message in error, you are asked to inform the sender as quickly as possible and delete this message and any copies of this message from your computer and/or your computer system network.
------------------------------
Last Modified on 30/06/2017 08:08
2017 AFLQ VOLUNTEER AWARD NOMINATIONS
2017 AFLQ VOLUNTEER AWARD NOMINATIONS
Nominations are now open for the 2017 AFL Queensland Volunteer and Coach Awards.
http://www.aflq.com.au/volunteering/
Volunteers and coaches are the lifeblood of Australian football. Without them, we simply would not have a game.
They work for the love of the football, not pay checks or praise. Be it mentoring and encouraging our juniors, turning the snags on the match day BBQ or tending the club books.
The AFL Queensland Volunteer and Coach Awards provide our Queensland football community with the opportunity to recognise outstanding contributions to the game by nominating the people who work tirelessly to bring our sport to life.
A State Volunteer of the Year will be chosen from the nominations. He or she will receive a grand final package for two that includes air fares, accommodation and grand final tickets. They will also attend a grand final function and take part in the official AFL Grand Final Parade.
Applications close July 31 and anyone can nominate.
The 2017 categories are:
1) Volunteer of the Year – for outstanding contributions in 2017
Club Volunteer of the Year (timekeepers, team managers, canteen coordinators etc.)
Club Administrator of the Year (Club presidents, secretaries, committee members etc.)
League Administrator of the Year (League Administrator, volunteer, league committee etc.)
2) Coach of the Year – for outstanding contributions in 2017
Community Coaching
Junior Coach of the Year (U6 – U11)
Youth Coach of the Year (U12 – U16)
Female Coach of the Year (coach is female, coaching either male or female football)
Senior Coach of the Year (U18 and Senior football)
Talent Coaching
Senior Talent coach of the Year (NEAFL, QAFL and senior representative football)
Assistant Talent coach of the Year (NEAFL, QAFL, senior or youth talent / representative football)
Youth Talent coach of the Year (U14 and U16 regional squad)
Female Talent coach of the Year (women's and youth girls' talent / representative Football)
3) Longstanding Services to the Game
Recognising outstanding contributions over many years of involvement
You can nominate as many volunteers and coaches as you wish.
Last Modified on 23/06/2017 09:54
2 EVENTS THIS WEEKEND
It's back by popular demand the "CAR WASH"
Help send the U16's to Melbourne and support their fundraising venture and get your car washed this Saturday from 8.00am at the club,
There will also be a Sausage Sizzle available on the day during the Car wash.
The boys will also be at Amart All Sports Virginia Sizzling some off Brisbane's best Snags
Dont miss out.
Last Modified on 05/06/2017 20:16
U16's CAR WASH 3rd of June
CHECK OUT THE PROGRESS
After a long time waiting the club is starting to take shape with the new cliubhouse only weeks away from opening up.
The new flooring in front of the canteen has just been laid and looks great.
Alot of determination and hard work shown by our clubs volunteers has sped up the process and soon we will all be able to enjoy the club house once again.
An exciting new menu will be just the start of the delectable delights coming out of the new state of the art kitchen.
Last Modified on 29/05/2017 19:52
Become an Eagle today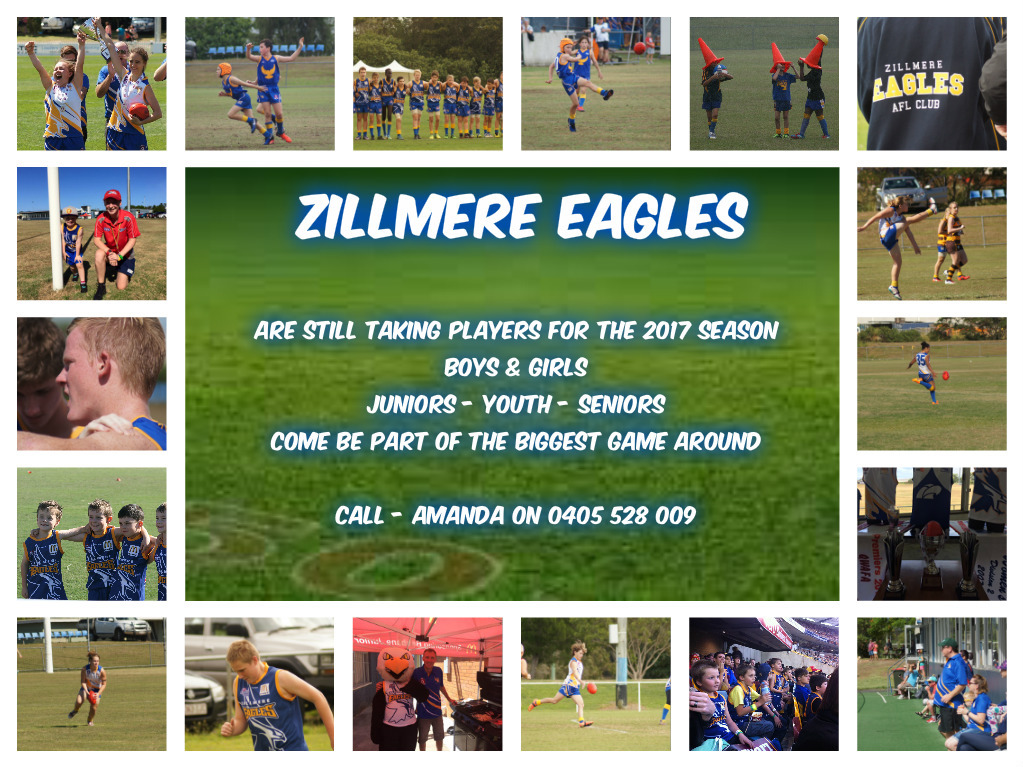 Training Times Varies between each age group
U11's Girls - Thursday only 5pm - 6pm
U15's Girls - Tuesday & Thursday 5pm - 6pm
U17's Girls - Monday (Sandgate) & Thursday (Zillmere) 5:15pm - 6:15pm
U6's, U8's,U9's, U10's - Thursday 5pm - 6pm
U12's - Monday & Thursday 5pm -6pm
U14's,U16's - Tuesday & Thursday 5pm - 6pm
Senior Women's - Tuesday & Thursday 6:30pm - 8:00pm
If you would like to know more please contact our Football Operations Manager Amanda Whitehead 0405 528 009 or email her at zillmerejuniors@aflbj.com.au
Last Modified on 26/03/2017 21:19
Get Started Vouchers Open 25 January 2017
Queensland Government's Get Started Vouchers program opens 25 January 2017. Please note important changes to the program, specifically around the referral agent process.
What is Get Started Vouchers?
Get Started Vouchers is an initiative to provide up to $150 to eligible children and young people, to help pay for sport or recreation club membership and/or participation fees through registered clubs.
If the child/young person or their parent/carer/guardian holds a valid Health Care Card or Pensioner Concession Card, they can apply online as soon as the round opens. These children do not need to use the referral agent process.
Updates to the referral agent process
The department is changing the referral agent process to ensure that children and young people who can least afford the costs to participate are supported by Get Started Vouchers. To ensure that the vouchers are going to those families most in need, a new referral agent process will be implemented from Round 9.
The department now requires that eligible referral agents register with the department to be able to refer children and young people for a voucher. Further details regarding referral agent criteria and eligibility requirements are on our website, along with fact sheets for parents and referral agents. Simply Google 'Get Started Vouchers' or go to the information here www.qld.gov.au/recreation/sports/funding/getinthegame/getstarted/refer/.
A child/young person can be referred to the program by a registered referral agent if they have access to a Health Care Card/Pensioner Concession Card, where there are significant issues that prevent the parent/carer/guardian from applying.
These issues may include: internet or computer access, computer illiteracy, Living in rural/remote areas with limited internet capability.
Further to this, referral agents may apply on behalf of a parent/carer/guardian where they are aware of the need for financial support to join their local sport or recreation club, and are assisting in their professional capacity.
For further information on the Get Started Vouchers program, please refer to the website - www.qld.gov.au/recreation/sports/funding/getinthegame/getstarted/.
If you have any specific questions about the program then please email the team at getstarted@npsr.qld.gov.au
Last Modified on 17/01/2017 12:07
Finals video footage now available online
Zillmere are the 2016 QAFA (B) Central Premiers!!!