Roy's Junior Footy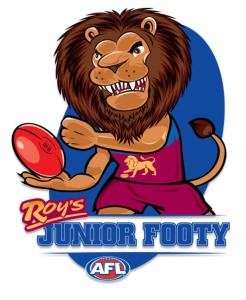 Roy's Junior Footy is for junior footballers making the transition from Auskick to club football and is specifically designed for children who will not turn 7 before 30 June 2018.
Consisting of one hour training session during the week in line with the junior teams and a 45 minute game on the weekend, the program has a heavier focus on game play, simulates competition format and incorporates skills development. The Roy's Junior Football mirrors the junior team season with 16 "rounds".
Registration is $25 and includes all insurances, administrative costs, match fees, participation trophy, printed team photo, commemorative year book. Registration also entitles participants to 30% off reserved seat tickets for any Brisbane Lions home game in 2018 (maximum of 4 tickets per transaction).
NOTE: Roy's Junior Footy participants must be registered in an Auskick program at any venue in 2018.
Further information regarding registration process will be provided shortly – for further information, please contact Tim Wolf on tim.wolf@aplng.com.au or 0467 733 426.