Uniform / Merchandise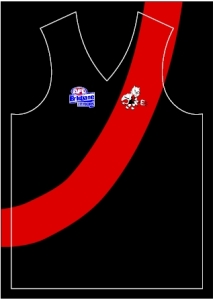 All players must wear the club uniform on game day to play:
Guernsey / Jumper

Black with red sash (supplied by the club)

Shorts

Juniors –black with red trim with official league and leage sponsor's logos

Youth – black for home games and white for away games, both with official league and sponsor's logos

Socks

Red and black hoops

Footwear

Football boots - no metal studs allowed
Under garments (bike pants, compression shorts etc) are acceptable; however, they must only be beige coloured. No other colours will be accepted.
Mouthguards are essential. Yeronga JAFC's policy is no mouthguard, no play for all age groups with the tackle rule (under 9 and up), all other age groups are subject to parental direction.
Head gear is optional.
Youth teams are encouraged to wear the club polo shirt to matches to encourage team spirit and pride.
Club apparel including polo shirts, training shirts, shorts and socks and caps can be purchased via email (yerongajuniors@aflbj.com) or at the club on Tuesday nights during training or home game days.