Canteen Operations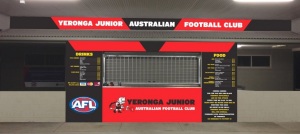 The Yeronga JAFC canteen is open during each junior training session on Tuesday evenings from 5:30pm. We offer a standard training meal deal for the players and parents, subject to any other special event that evening.
During the junior season the canteen is open at all Saturday home games and during other events as determined appropriate.
Revenue generated by the canteen is the main source of club revenue and is used to fund building & equipment requirements ensuring the club's facilities and equipment (including apparel) are some of the best Queensland has to offer, so it is important that all parents get involved and complete as rostered. The canteen is very successful; however, its operation relies heavily upon the rostered parents of each team and your participation and support is critical. You may be required to fulfil only one or two such rosters within a season.
We are always on the lookout for paid staff or helpers to run the canteen, please contact a committee member or refer to the Club website (Canteen section) if you can assist.