Club Umpires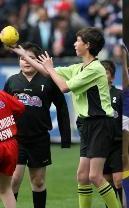 At Ipswich we have a very experienced and great Umpire Coordinator, Amanda McComb, as well as numerous Club Umpires.
Umpires for games are either AFLBJ umpires or Club Umpires. Training is provided at the club level as well as BJAFL level for those interested in being an umpire.
If you would like some more info please contact Amanda or any of the committee.
2016 Club Junior Umpires
Darcy Fitzgerald
Claydes Doyle
James Box
Drew Harvey
Tom Roderick (Emergency)
Umpire Resources: