Wolves History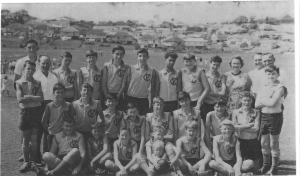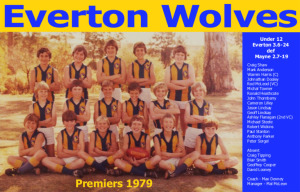 The Everton Wolves began officially in October 1969, but goes much further back. The club was formed from families from the Golden Valley Football Club, the Oakleigh Football Club (latter became Ashgrove) and the Mitchelton Football Club, all of which no longer exist.
The original field was a cow paddock and parents had to shoo the cows off the field and shovel cow pats off before games could begin. By 1974, the main field was set up and no longer a cow paddock but a playing field.
Golden Valley amalgamated with Everton in 1974, Although the Wolf has always been the club emblem, originally the club had a blue jersey with a red sash. With the amalgamation, the club's colours changed to adopt the gold from the Golden Valley Falcons to replace the red.
In 1975 lights were organised for the main field and the clubhouse was finished.
The club won its first premiershisp in 1979 with the U12 being the first followed by the Seniors in the next week.
Everton fielded a senior team up until 1990, when it ceased following winning both the Senior and Reserve Grand finals.
The club has grown since being reduced to only an Auskick group in 1999.
In 2016 the club fielded its first all female team and continues to grow towards its 50th anniversary in 2019.