Magpies in Need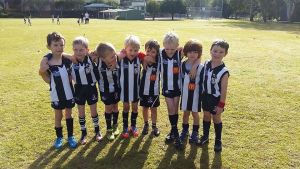 The 'Magpies in Need' account is a new initiative that has been set up by the Sherwood Juniors AFC and will be again operating during the 2017 season.
The aim of the account is to gain funding to help out parents who have kids playing at the Sherwood AFC who are in need of financial assistance.
The 'Magpies in Need' account can be used to help families with financial hardships with Sherwood Juniors AFC registration fees, the extra costs that are involved when a player is selected in representative squads and to help with the shortfall in medical insurance costs when a player is injured either playing or training for the Sherwood Juniors AFC.
A clear set of guideline will be set up by the Sherwood AFC board and assistance needs to be applied for in writing to sherwoodjuniors@aflbj.com.
All applications for assistance will be kept strictly confidential.
The Sherwood Juniors AFC is offering & looking for like minded sponsorships of $500.00 (exclusive of gst) from business owners within the club and the local area. At the end of each season, certificates of appreciation will be sent to all businesses that have donated funds with a breakdown on how funds were spent and the balance of 'Magpies in Need' account at the end of the season. You will also be invited to the clubs 'Sponsors Day' which is held prior to a Western Magpies Seniors home game. Our aim for the 2017 season is to have a minimum of 30 sponsors committed to the program.
If you would like to be part of the 'Magpies in Need' account or would like more information, please contact our Junior Director, Scott Matthews on 0438 454 022 or email the Sherwood Juniors AFC at sherwoodjuniors@aflbj.com.
A tax invoice will be sent to you with details on how you can become a member of this much needed program.