About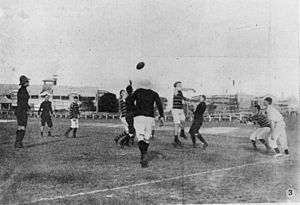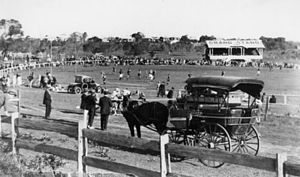 Wynnum Vikings AFC is an Australian rules football club located in the ever growing Wynnum-Manly District to the east of Brisbane City.
Off the field, Wynnum is a small but strong family and community orientated club that prides itself on being 'blue-collar'.
On the field, the club is in the middle of its most successful period in history with senior premierships in 2003, 2008 and 2009 as well as second place finishes in 2006 and 2007. The U12 premiership in 2012 has set the momentum for a successful 2013 across all levels.
The club welcomes new players of all experience levels as well as community assistance and involvement in any form.
Wynnum Vikings AFC is a community based football club which aims to provide a fun and safe environment for its players and members to learn and participate in the sport of AFL - where families are welcomed and have the opportunity to socialise and enjoy themselves.
History
Early records depict games being played from 1905. Originally known as the 'Tricolours', Wynnum played wearing the colours of blue, red and white. Premierships were won in 1909 and 1920. The club missed participating in seasons 1912, 1922 and 1924.
The club was officially founded in 1966. The first premiership came in 1974, and it was a long wait til 2003 for the next one. After winning the 2003 premiership in Division 2, the Senior teams were promoted to AFLQ Division 1. It wasn't long to wait before the next premiership with the Wynnum Vikings going 'back to back' in 2008 and 2009. An historic '3-peat' almost finished the 2010 season, but the teams fell short in finals. 2010-2012 has seen the club move to a rebuilding phase where U18 players are encouraged to progress into Senior football as early as possible. Due to AFLQ competition restructuring, the Wynnum Vikings will start the 2013 season in the SEQAFL Division 2 competition.
Records are unclear as to when the club started playing in the dark blue/light blue colours, but over time yellow managed to sneak into the mix as well. Having played in jerseys with a yellow flare for many years and peaking to a Youth mostly yellow jersey in 2011, the Committee decided in late 2011 to head back to the dark blue/light blue jersey combination. This has seen a newly designed jersey being implemented in 2012, and this will continue through all teams in 2013 and beyond.
Images: Australian Football Premiership Grand Final at the Brisbane Cricket Ground in 1907. The 'Locomotives' defeated Wynnum by 40 points. Although winning 2 Premierships in their 5 years in the competition, failing to win a single game in the 1909 season saw the Locomotives drop out of the competition.
(Photo with horse and cart) A big crowd gathers to see the Wynnum Football Club play at home at Memorial Park, Wynnum. Photo circa 1928.
Images and some information from this page courtesy of Wikipedia.