2017 Colts Training Invitation
Training for the Men's Seniors kick-off from 6pm on Wednesday December 7th.
A warm (literally) invitation is extended to the prospective Colts of 2017 to join this and future seniors training sessions.
Get your preparations off to a good start, with a wealth of knowledge and experience amongst the Seniors you'll already be ahead of the competition from day 1!
Last Modified on 03/11/2016 12:34
COACHING EXPRESSIONS OF INTEREST
The Zillmere Eagles Junior Australian Football Club is calling for any expressions of interest for all junior, youth and women's coaches for 2017.
We wish to acknowledge the hard work and time dedicated by all of our coaches and managers in 2016 and welcome their expressions of interest to continue in 2017.
Next year we expect that we will be fielding teams in the following age groups:
- Under 8
- Under 9
- Under 10
- Under 11
- Under 11 youth girls
- Under 12
- Under 13 youth girls
- Under 14
- Under 15 youth girls
- Under 16
- Under 17 youth girls
- QWAFL reserves
- QWAFL seniors
- Colts
Expressions for coaches, assistant coaches and team managers can be made in writing to the committee at zillmerejuniors@aflbj.com.
Please forward your expression of interest by close of business Wednesday 30th November 2016.
Last Modified on 30/10/2016 23:32
Finals video footage now available online
Zillmere are the 2016 QAFA (B) Central Premiers!!!
A New Year a NEW Grant!
With Stage 1 of the club house renovations completed we're delighted to advise the club has been successful in securing a "NEW" grant which will support a large portion of the internal club refurbishment.
All our grants would not have been made possible without the hard work of our very own Liz O'Brien - THANKS LIZ!
It's great to have continued progress and we can't wait to see the end result, this will make a proud club even prouder.
A big word of thanks to the Brisbane City Council, stage 2 of our renovations are being made possible through the BCC grants scheme. The Zillmere Eagles greatly appreciate BCC's continued support across this long awaited project.
You've got to love the blue & gold BCC logo!
Last Modified on 21/01/2016 17:50
Half time check in - July Newsletter
Catch up with the latest news in our July edition. Download the full newsletter here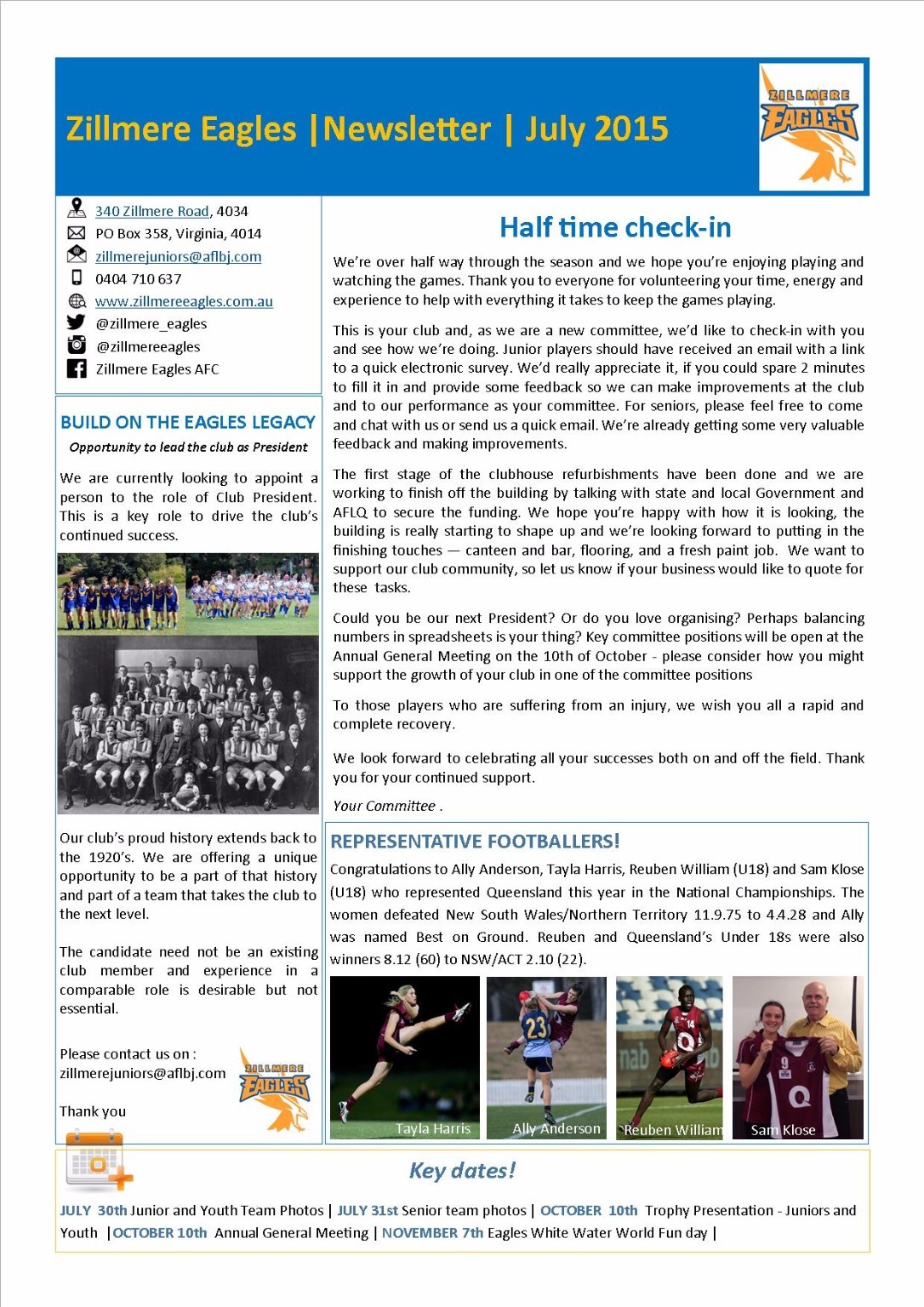 Last Modified on 30/07/2015 08:10