Home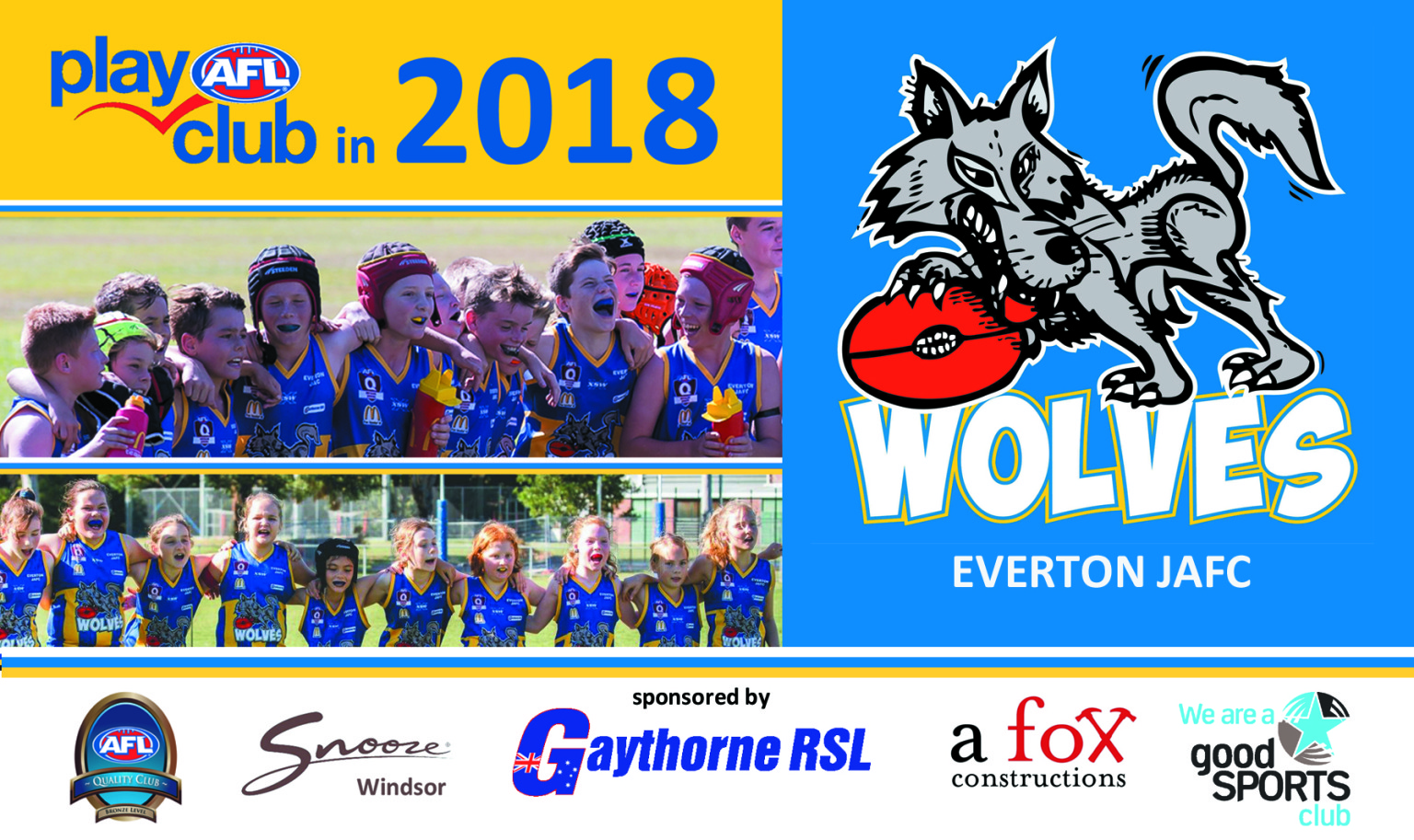 EVERTON JAFC 2018 MEMBERSHIP FEES

Junior Boys & Girls

Youth Girls

Youth Boy

U8


1st Jan 2010 –


30th Jun 2011
U9/U10


1st Jan 2008 –


31st Dec 2009
U11


1st Jan 2007 –


31st Dec 2007
U13/U15/U17


1st Jan 2001 –


31st Dec 2006
U12/U14/U16


1st Jan 2002 –




31st Dec 2006

Wolves Player Membership

Was $100 NOW $50

Was $125 NOW $62.50

Was $130 NOW $65

Was $140 NOW $70

Was $140 NOW

$70

Wolves Parent Membership

$25.00

$25.00

$25.00

$25.00

$25.00

TOTAL - First Child

Was $125 NOW $75.00

Was $150 NOW $87.50

Was $155 NOW $90

Was $165 NOW $95

Was $165 NOW $95

Note : Parent Membership is a one off payment per family and is added to the first child's membership fees.

TOTAL - Each Additional Child

Was $100 NOW $50

Was $125 NOW $62.50

Was $130 NOW $65

Was $140 NOW $70

Was $140 NOW $70

Note : League Player registration fees are extra and must be paid when registering. No player registration will be
entered and the player shall not be permitted to play until the player registration fee has been paid.

League Player Registration Fee

$55.00

$99.00

$132.00

$132.00

$143.00

Note : Fees stated are for cash or direct bank transfer payments.
Payments via online registration and clubs Square Up facility attract processing fees.
Included in Player Membership Fee - GST, Polo Shirt (every 2nd Year), Team Photo, Participation Trophy/Medallion Uniform is extra socks $13 and shorts $30. Playing Jerseys are provided on game day and remain the property of the club.

PLAYER MEMBERSHIP FEES
ARE CURRENTLY HALF PRICE
FOR A LIMITED TIME ONLY
and as an added bonus
REGISTER BEFORE 3rd FEB 2018
AND GO IN THE DRAW TO WIN
ONE OF 3 x $50 CLUB MERCHANDISE VOUCHERS.
Wolves Membership Fees are due before 30th March.
Payment plans are available on request.
Fees are refundable should you decide Footy is not for you after your 3rd Game.
Players wishing to transfer from another club (local or interstate) are required to fill in a transfer form
http://websites.sportstg.com/get_file.cgi?id=36070699
For more information contact our Registrar at evertonjafc@optusnet.com.au
or phone 0478 772 152
The Everton Wolves Junior Australian Rules Football Club provides opportunities for boys and girls to learn new skills and play in local competitions against other teams in the AFL Brisbane Juniors Competition.
We offer
NAB AFL AUSKICK - Boys and Girls aged 5 to 12
An introduction to AFL, delivered at schools and local junior AFL clubs where participants learn the basic skills of AFL and how to play the game in a fun, safe environment with their friends.
Register NOW for NAB AFL Auskick in 2018
ROY'S JUNIOR FOOTY - Boys and Girls aged 5 to 7
Modified rules. No tackle, smaller field size 50m Long x 40m Wide, 6-a-side teams.
Registration will be available in early 2018
JUNIOR TEAMS - Boys and Girls aged 7 to 11
Modified rules to suit each age group.
U8 - No tackle, smaller field size 80m Long x 50m Wide, 9-a-side teams.
U9/U10/U11Girls - Modified tackle, smaller field size 80m Long x 50m Wide, 12-a-side teams.
U11 - introduction to full AFL rules on a smaller oval 120m long x 80 wide, with 15-a-side teams.
YOUTH GIRLS
Under 13, Under 15 & Under 17, your child will begin playing competitive football for points and premierships
YOUTH BOYS
Under 12, Under 14 & Under 16, your child will begin playing competitive football for points and premierships
Register Now to Play Junior or Youth Footy With the Everton Wolves
In 2017 we have members attend the following schools
Albany Creek State School
Ashgrove State School
Aspley East State School
Aspley State High School
Enoggera State School
Everton Park State High School
Everton Park State School
Ferny Grove State High School
Ferny Grove State School
Ferny Hills State School
Grovely State School
Hillbrook Anglican School
Kedron State High School
Kelvin Grove State College
McDowall State School
Mitchelton State High School
Mitchelton State School
Mt Maria Senior College
Newmarket State School
Northside Christian College
Oakleigh State School

Our Lady Help of Christians School

Our Lady of Dolours Primary School
Our Lady of the Assumption School
Padua College
Prince of Peace Lutheran School

Samford State School

Samford Valley Steiner School

St Anthony's School

St Joseph's Nudgee College
St Joseph's School
St William's Primary School
The Gap State High School
The Gap State School
Various Kindergardens
Even if you don't see your school listed we would love you to come along and join our Den.
Players can join a team at any age group from Roy's Juniors to U16 even if they have not played AFL before. We always try to put friends in the same teams. Our Club Values are what set us apart.
Club Values:
Maximum participation without a 'win-at-all-cost' mentality

Integrity and inclusiveness

Responsibility and accountability

Teamwork and club spirit

Respect of all players and club members

Respect for the 'spirit of the game', including opposing teams and their supporters