Netball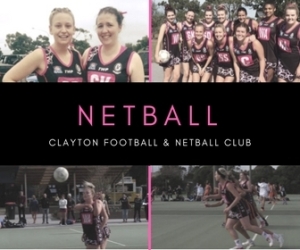 The CFNC Netball team was established back in 2011, driven by the passion and determination of some women around the club who wanted to get involved.
It started off with a tough few years, as our new players gained experience before winning the 2014 premiership in Division 3 against Dingley in a thrilling match that went into extra time!
Since then we have been lucky to field two netball sides with the Seniors (1st's) competing in finals nearly every year since 2014. Over recent times, the Reserves (2nd's) have had up and down seasons, with the playing group fluxuationg sue to other commitments the players have on. Both sides are looking to rebuild stronger in 2018.
Training to take place at Marriott Waters Reserve, Lyndhurst on Wednesday nights, from 7pm.
Games are on Saturday afternoons at Rowan Road Reserve, Dingley netball courts, anywhere between 12pm-3pm, as scheduled.
New players always welcome.
Netball Club Contact
Sarah Collins
0412 257 500

#GoClays