Womens
We are proud and excited to announce the establishment of our Women's Football team strating in 2018, affectionally nicknamed "The Claydies".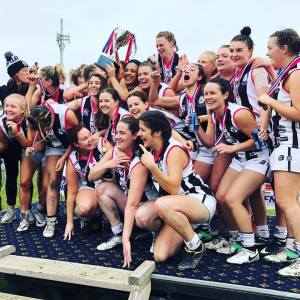 2018 SFNL Women's Division 2 Premiers
This is our newest way in which we are developing and encourganing everyone to engage in a healthy, active lifestyle and get involved with their local community club.
The Claydies compete in the SFNL Women's Football Development (Division 2) competiton that was established in 2017, and has expanded to include more teams across the league in 2018.
Women's training is held Tuesday and Thursday nights at 6pm, at our home ground, Jack Meade Reserve, Clayton. To get involved or for more information please contact our Head Coach on the below details.
Women's Football Contact
Neil Townley - Women's Football Coach
0418 532 749
wtownley@optusnet.com.au
2018 SFNL Women's Division 2 Best & Fariest Winner - Stephanie Sandoval