BLOODS THIRSTY
A horrid day as we were totally outclassed by a very slick Mordialloc outfit. A day made worse by the sight of Brendan Ashman clutching at his knee and taking no further part in the game.
Below Chris Chalmers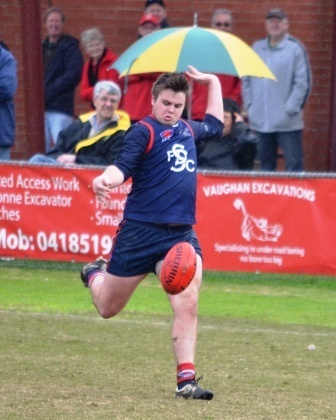 We started brightly but the ladder leaders gradually flexed their muscle and became dominant. Our depth is being sorely tested at the moment, reflected by the fact that eight of the side that played Mordialloc in round 5 were unavailable.
Below: Jason Adams in traffic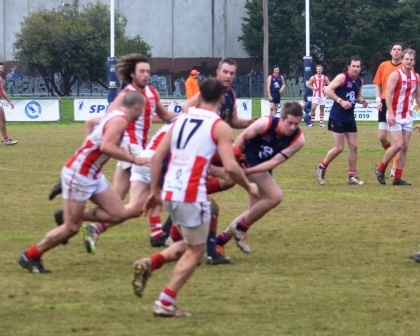 The effort was present and the young backline battled well in the face of continues entries into the defensive 50. Ben Laier won more than he lost and the improvement in Jackson Bolch is there for all to see. Luke Woolrich and Clint Brooks also battled hard.
Our experienced players in Gav, Crackers and Dousty continue to row their side of the boat, whilst Lem showed he has ability at senior level.
Below: Matt Pay marks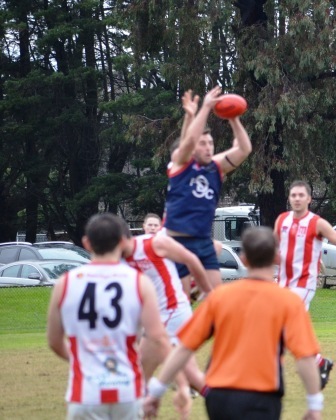 The reserves fought a pitched battle for three quarters before the visitors ran away with the last quarter. Scores were locked at the last break before a 7 goal to 2 last term saw the points head bayside. Matt Pay and Paul Riley kicked two apiece. Better players included Paul Norman, Matt Devereaux, Paul Hill and Aaron Henderson.
A special thanks to Keeley Burns for helping out and running the water for the reserves.
Below : Paul Riley flys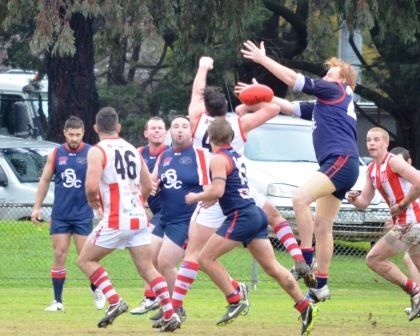 Last Modified on 27/07/2014 11:34