BEARS NO PICNIC
It was a tight struggle at Koornang Park as our lads took on the much improved Bears. Aidan Jolly hit the scoreboard early to give us some early momentum. In heavy conditions, it was not going to be a high scoring match. Leighton and Brooksy were also providing good targets up forward, whilst Chris McTaggart's grunt work was what we required in the conditions.
Below Chris McTaggart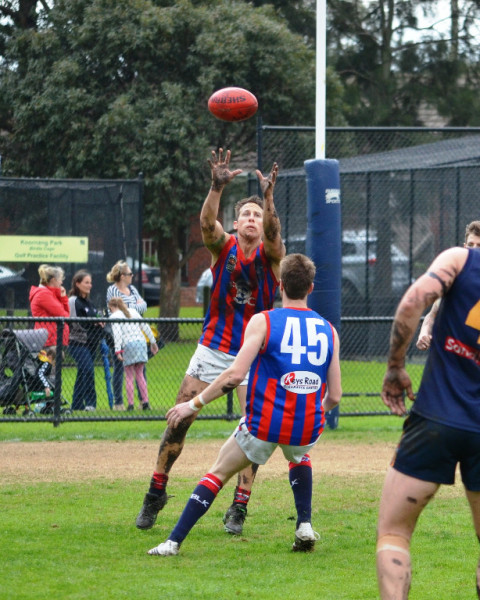 The Bears had the better of general play in the second term and probably wasted some opportunities. To our credit, we stayed in the contest and were able to go into half time facing only an eight point deficit.
We sprung out of the blocks in the second half with Dylan Bramble and Lance Baptist getting on the board. Lance moved into the middle and provided great drive in a best on ground performance. A three goal to nil quarter was a fine result as the rain started to bucket down, turning the match into a scrappy affair. The final quarter was played in almost darkness.
Below: Leighton extracts it from the mud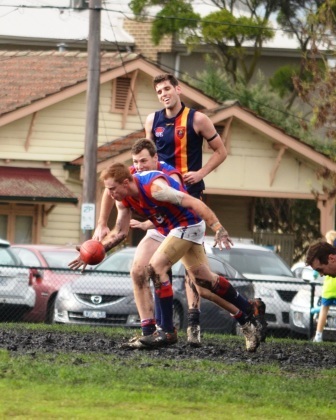 It was a pleasing win given that it was never going to pretty. We were challenged and able to hang in the contest. Importantly, we found a way to goal even with our champion skipper and goal kicker watching on. Unfortunately we paid a price for the four points with Matt Thomspon and Kris Merz both popping shoulders – speedy recovery lads.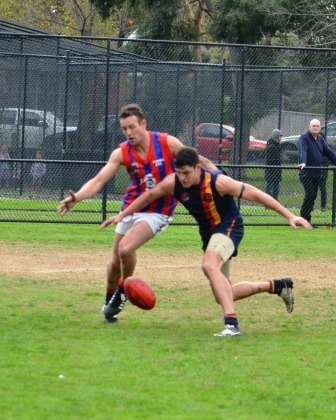 The reserves gave up a 17 point half time lead to suffer a narrow loss in a low scoring game. Cam McLeod and David Pearce rowed their side of the boat for the youngsters, whilst Damien Stark and Adam Nichols represented the veterans admirably.
Last Modified on 22/06/2014 11:28