Banksy's BS - Presidents Report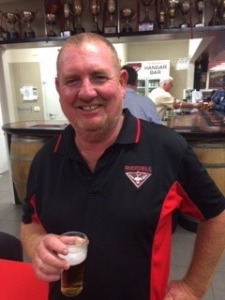 Here we go boys and girls!
I don't think anyone could have picked that the Riddell boys would be up there and competing in the 'Big Dance' this Sunday, to come this far is a massive credit to all involved with the Riddell Football Netball Club both on and off the ground. At the start of the year Jamie Elliott was appointed as our senior coach and a new look baby bombers were born.
It all sounds easy when you put it like that in one line, but let me give you a small insight to the organised chaos that goes on in and around the RFNC. To start the year I was allocated 3 sets of keys, of which I kept 1 and distributed the remaining to Bomber the Vice President and Sean Barrey who at that time was the reserves team manager. By week 1.1 there was 1 set of keys left - in my pocket. Week 20 there are still 1 set of keys – in my pocket. There were team managers that took until round 12 to work out that water boys wear white shorts and runners wear black – fines. We nominated players coming back from injury to do the running who thought they were still playing and that arguing with the umpires and sledging the opposition players was ok – More Fines.
The Coaches Box is not a place where all your mates can watch the game from even if they do have a clip board in their hands – Even More Fines.
There is a General Manager who is supposedly there to help me bring order around the club, yet he likes to manipulate texts and emails for his own amusement which creates complete discord. Good work Fat Head.
On Monday Nights a meeting is held to discuss the weekend's games between the senior members of the club which I believed to be a casual affair bringing along my girlfriend and child. To my dismay this carried a 2 slab penalty and 1 week suspension and at the meetings to follow the general agenda item was to highlight everything that I was doing wrong and what I should be doing, with no one putting their hand up to actually do anything. Bowser had one job for the year and that was to do the grog pick up early on the morning of home games – thanks for the one time you did that in Round 8 mate even though it took 11 calls to get you out of bed! An Assistant Coach who requested we buy flowers for the reserve coach because he was spending too much time away from his family 'What The …??' The same bloke kissed the hand of the publican when he had given him a lift home after consuming 16 glasses of house red which stained his lips for a week.
I still don't know who our Football Manger is. It could be Demon with all the positive feedback he gives to the coaches and players!!! It's no wonder Jamie had a bewildered look in his eyes the first few weeks when he joined the club. In the end with all this going on the club still managed to put competitive sides on the ground each week.
The girls are perfect and I do not wish to say anything derogatory about them. J
The Netball Management and Players were organised from the start and their dedication has paid off successfully playing in the A, B, and C Grade Grand Final. Great work team!!
On a sad note our 200 plus game player Jason Allen broke his arm in last week's final and will be unable to compete this Sunday which is a huge disappointment for him and the club. The Club wishes him a speedy recovery and his retirement plans may need to be put on hold for another year?
Let's all enjoy the build-up over this week and come Sunday bring everything you've got.
Go Bombers!!
Coaches Report:
The Coach this week would like to pass on his congratulations to everyone involved and good luck!
The Cockroach
Training Nights:
Thursday Night Training at the oval and $10 meals, this week lasagne and salad with garlic bread, to follow before sides are read out in the Social Rooms.
Grand Final Night
After the game on Sunday the Social Club will be open from 6.00pm
$10 per head.
'The Hit Men' will be playing from 7.30pm.
Drinks at bar prices and pizza for the meal.
Presentation Night - booked out!!
Date is Friday 23rd September
$65.00 Ticket
WestWaters Hotel & Entertainment Complex and Mercure Melbourne Caroline Springs
10-20 Lake Street, Caroline Springs, VIC
There will be buses to and from the venue so bookings are essential
Sonja Mix and Sophie Cousins are taking numbers
so to book call Sonja on 0457 988 841 or Sophie on 0438 090 717