SPONSORS
OpenCorp

www.opencorp.com.au
OpenCorp is proud to be partnering this season with Mazenod Football Club as their Premium Sponsor. OpenCorp is a developer with a Funds Management licence (AFSL#417371), which allows every day Australians to invest alongside us and become property developers by investing as little as $10,000. With capabilities in the acquisition, planning and delivery of quality residential, commercial and industrial development projects across Australia, OpenCorp has a successful track record of providing solid returns for investors.
Should you be interested in understanding more about the current projects we have available for investors visit www.opencorp.com.au or phone 1300 649 564 and ask to speak to one of our team members in the Funds Management division. Throughout the season we will be in touch with available investment opportunities for the Mazenod Football club network.
Winchester Capital
Mark Murray
Director
Winchester Capital Group Pty Ltd
M. +61 419 282 088
E. mark@winchestercapital.com.au
------------------
Advanced Office Interiors

http://www.advancedofficeinteriors.com.au/
A.O.I - No. 1 for Affordable Office Fitouts Melbourne Wide
With over 20 years of experience, Advanced Office Interiors can truly lay claim to being the experts in the field of office fitouts, partitions, layout and design. Our work speaks for itself, and can be found in the most high profile, dynamic offices in Melbourne
Whether it's a complete office renovation or a simple office refresh, we will work with you to develop a professional looking and functional work space. For combined office/retail commercial spaces, we are also able to offer retail fitouts including everything from display racks and shelves to visual merchandising features such as carousel displays and window front elements.
Our services include complete project management, to ensure that the job is done as efficiently as possible and downtime is minimized. The coordination of suppliers and contractors is all done for you so you can just relax and do what you do best, while Advanced Office Interiors do what we do best; complete office fitouts that are sleek, modern and optimally functional.
Address: P.O Box 3039 Wheelers Hill, 3150
Phone: (03) 9795 8038
Fax: (03) 9795 0758
Mobile: 0418 538 561
Glenferrie Group

http://glenferriegroup.com.au/
We are a dynamic and experienced team of professionals who specialise in accounting, taxation, self managed super, lending, investment and financial planning advice.
Not only do we offer traditional accounting and taxation services, but we also offer total financial care solutions for all your business and personal needs.
Combining traditional accounting and specialised financial planning skills enables us to:
be fully informed of each client's situation at a personal, family and business level; and
provide solutions that incorporate taxation, financial risk and lifestyle considerations.
At Glenferrie Group, we:
combine technical skills with a sincere desire to assist you;
appreciate that you know your individual or business needs best;
take the time to learn everything we can about how you and your business operate;
provide options – outlining the solutions that can be implemented and the results they can produce;
empower you to identify which issues are the most pressing to deal with, for both the short and long term;
demonstrate, through our considerable experience and industry involvement, how goals can be achieved via suitable self managed superannuation solutions;
think outside the square – offering alternative ways to deal with problems that are currently affecting businesses or individuals;
believe that client relationships only progress through mutual trust, confidentiality and achieving results.
Learn more about our accounting, financial planning and lending services.
http://lending.glenferriegroup.com.au/
Key People
Adrian Rogers - Director
BEc, ACA, Finsia

Adrian commenced his professional career in 1990 with KPMG. where he worked in various roles both locally and abroad for ten years. He then moved to take up a Directorship in Barrington Brown Chartered Accountants until its merger in 2006 with Tiernan & Co Accountants and eventually the formation of Glenferrie Group.
Adrian advises small to medium enterprises, individuals and superannuation funds on a range of taxation, business structure and wealth creation initiatives.
Adrian has a Financial Planning Specialist designation with the Institute of Chartered Accountants of Australia and is Responsible Manager with ASIC on Glenferrie Group Australian Financial Services License (AFSL: 247 164).
Adrian is also a Fellow member of the Financial Services Institute of Australia and a member of the Mortgage and Finance Association of Australia. Adrian is Responsible Manager on Glenferrie Group Lending Services Australian Credit Licence (ACL: 395011).
Phone:
Fax:
(03) 9912 1212
(03) 9882 0808


Postal Address:
PO Box 1116
Camberwell 3124
Physical Address:
Level 2 - 691 Burke Road
East Hawthorn Vic Aust 3123
Waverley Toyota

If you are looking to buy a new or used Toyota, or service your existing vehicle, visit Waverley Toyota.
Waverley Toyota have a deep connection to the local community and have been a sponsor of the Mazenod Panthers and Mazenod Old Collegians Football clubs for many years.
Waverley Toyota' commitment to the community is matched by their emphasis on customer satisfaction. The friendly staff are specialists who are proud of their association with Toyota Australia, and look forward to assisting you when searching for your new or used or Toyota vehicle.
The team enhance your buying experience by providing expert after sales service with courtesy pick-up and drop-off convenience, knowing your car is being treated with the care and professionalism you would expect in our large and modern workshop service area.
| | |
| --- | --- |
| Address | Cnr Springvale & Waverley Road, Glen Waverley, Melbourne, VIC 3150 |
| Phone | (03) 8544 2... |
| Email | |
Dawkins Occhiuto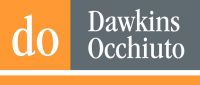 http://www.dawkinsocchiuto.com.au
Dawkins Occhiuto is a high quality commercial real estate agency founded by Andrew Dawkins & Walter Occhiuto.
The Company was established to provide clients with a premium service that is driven by the knowledge, skills and focus of the directors. The overarching principles of Dawkins Occhiuto are a commitment to professionalism, integrity and optimising our clients' outcomes.
Our agency practice is nimble, sophisticated and driven by results.
Range of Services
Public marketing campaigns

Off market brokerage sales

Consultancy and feasibility advice

Strategic acquisitions including joint ventures

Project marketing

Leasing instructions
Suite 7.04, 10 Yarra Street,
South Yarra VIC 3141
T 03 8825 4555 F 03 9826 9337
Grady Excavation and Bobcat hire

Morgans (Carlton)

http://www.morgans.com.au/Branches/VIC/carlton/Our-Services/Financial-Planning
Financial Planning & Stockbroking.

Nathan Little CFP, Dip.FP and his team at Morgans Carlton offer a wealth of financial experience and technical expertise to help you reach your investment goals.

Financial planning is taking advantage of all the investment opportunities available to you. Contact Nathan to find out how the right advice and a patient investment approach, can make you a successful investor:

As a long standing player, and sponsor of Mazenod Nathan continues to deliver a free, no obligation first appointment to all Mazenod supporters.

Web: http://www.morgans.com.au/Branches/VIC/carlton/Our-Services/Financial-Planning

Ph: (03) 9066 3205
0404 68 4040

Email: nathan.little@morgans.com.au

Address: 64 Pelham Street Carlton 3053


Star 21

www.star21.com.au
Star21 has become one of Telstra's leading channel partners by providing a fresh, reliable and honest approach to the business market in which we operate.
Dealing with Star21 is very easy and convenient. As a whole of business provider, we offer a wide range of Mobility, Phone systems, Fixed line and Data solutions, and our experienced team of professionals help businesses take the guess work out of their communications strategy.
We are extremely fortunate to have an experienced and passionate team of professionals who collectively have many years of experience in the telecommunications industry.
Our aim is to deliver Telstra services to businesses who want the latest innovations in technology to ensure they reach their maximum business potential and gain that competitive edge, with the Star21 touch of course!
National Office

Level 1, 668 Burwood Road
Hawthorn East VIC 3121

P: (03) 9804 2777

F: (03) 9804 2788

Young and Grant Accountants

http://www.youngandgrant.com.au/index.php
Young & Grant Accountants is a vibrant accounting firm providing comprehensive solutions in the areas of accounting, tax and other financial services to clients in Melbourne's South East and beyond. Our firm is focused on providing Quality, Value & Service to all of our clients. Our goal is to guide our clients through the accounting and taxation minefield, enabling them to better understand their financial position. Young & Grant Accountants offer a professional, personalised service in an enjoyable atmosphere, and we passionately believe in friendly, accurate, open communication with clients.
Call Us
Office:
03 9561 0945
Mobile:
Ben Young: 0402 934 299
Bree Grant: 0402 501 174
Write Us
Fax:
03 9545 1359
Email:
ben@youngandgrant.com.au
bree@youngandgrant.com.au
admin@youngandgrant.com.au
Postal Address:
PO Box 3529,
Wheelers Hill, Vic 3150
Visit Us
Address:
Level 2, Suite 19,
202 Jells Road,
Wheelers Hill, Vic 3150
Michael Gidley

http://www.michaelgidley.com.au
State Member of Parliament for Gidley
Brougham Press

www.broughampress.com.au
Remember when quality and service meant something. Not just a cliche but honest one on one attention. We take great pride in our work and deliver on quality and price. We have up to the minute technology but we value personal relationships. Try us, you wont be disappointed and we will probably save you a bob or two!.
Michael Murphy
33 Scoresby Rd
Bayswater Vic 3153
T : 03 9729 4488
F : 03 9729 7996
E : info@broughampress.com.au
Ivans Pies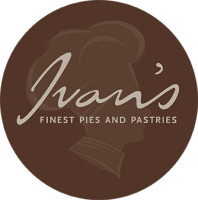 http://www.ivanspies.com.au/
Ivan's Pies is a manufacturer and supplier of premium and gourmet pies and pastries, and has been supplying gourmet food outlets for more than 20 years.Ivan's Pies has a fantastic range that includes premium pies, gourmet pies, pasties, pastry rolls, quiche, fruit pies and a delightful selection of party pastries.
Telephone: 1300 55 GOLD (4653)
Facsimile: (03) 9587 9766
Email: gold@ivanspies.com.au
Post: Head Office
Ivan's Pies
PO Box 467
Braeside Vic 3195
Factory Outlet: 158-162 Woodlands Drive, Braeside Vic 3195
Mike Quinn Painting
Quinn-Essential Painting
Call Mike Quinn for all your painting needs
No job is too small
Mobile : 0419 399 718
Email : maquinn_55@hotmail.com
Back in Motion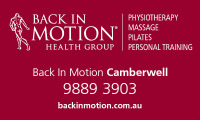 http://www.backinmotion.com.au/practice/camberwell
http://www.backinmotion.com.au/practice/camberwell
9889 3903 Call to book an appointment today
Opening Hours
| | |
| --- | --- |
| Mon – Thurs: | 7:40am – 8:00pm |
| Fri: | 7:40am – 6:00pm |
| Sat: | 8:00am – 1:00pm |
Address
1207 Toorak Rd
Camberwell VIC 3124