OUR CLUB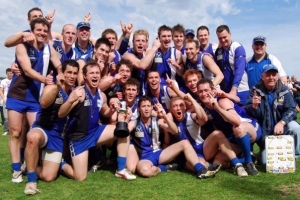 Mazenod Old Collegians Football Club (MOCFC) was founded in 1977 and played its first year of competitive football in 1978 within the Eastern Suburban Churches Football Association (ESCFA). The club won promotion in 1988 after winning the B grade premiership however decided to move to the Victorian Amateur Football Association (VAFA) and played its first season in that competition in 1989 (F Grade). The club has enjoyed great success in the VAFA winning promotion to A grade in 7 years and winning VAFA Club of the Year on two occasions. As at end of 2009, MOCFC had won 19 premierships flags - the latest being the C Section Reserves in 2009.
The club operates from Central Reserve in Glen Waverley and has been a winter tenant at that facility since 1994.
In 2005 the club took another step in its development with the creation of teams within the Football Integration Development Association (FIDA) which provides a regular, competitive fixture of Australian Rules football for players with an intellectual disability.
The club fields a number of teams namely:
a) Senior
Reserve
Thirds
Under 19 (players who turn 20 after 30th June)
Football Integration Football Association (FIDA).
The club has over 200 players participate in a football game each year and enjoys the support of financial members and supporters. The club also has affiliations with a Auskick program. Mazenod aims to play in the highest possible level with the league and the clubs divisional allocation is determined by the performance of the senior team in the previous season. In addition the club has the following purposes :
Promote the sport of Australian Rules Football within our local community in a safe manner
Encourage and develop good sporting behaviour
Provide an enjoyable social experience easily shared with family & friends
Create a sense of social and community values
Nurture the development of our youth
Promote respect for officials, opposition players and supporters and the virtues of fair and disciplined play
Financial security and the ability to finance capital works that result in improvements to the club to benefit club members and the community.