About Us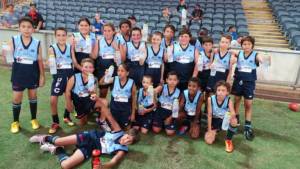 The Darwin Buffaloes Football Club competes in the Northern Territory Football League and we offer opportunities for girls, boys, women and men to be involved in community events through Aussie Rules. Our strategy is to engage families and children to actively participate in 'their Club'. The juniors learn to play as a team, develop new skills and strive for success. The strategy has produced 23 Senior Premierships over 100 years.
The Darwin Buffaloes Football Club comprise the following teams in Darwin and Palmerston.
Under 12s x 2

Under 14s x 2

Under 15 Buffettes

Under 16s x 2

Under 18 Boys x 2

Under 18 Buffettes

Mens Division 1

Womens Premier League Buffettes

Mens Premier League
The Club welcomes players, supporters and members to follow the mighty Buffs via this website and the Club's facebook page
We are confident of extending our long and proud history well into the future.
The Club Senior premierships were won in: 1921-22, 1924-25, 1925-26, 1926-27, 1931-32, 1933-34, 1934-35, 1948-49, 1949-50, 1950-51, 1951-52, 1962-63, 1963-64, 1967-68, 1968-69, 1969-70, 1970-71, 1971-72, 1972-73, 1975-76, 1979-80, 1988-89, 2005-06