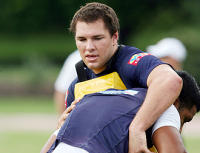 APPRENTICE electrician Mitchell Dodds expected to play a Queensland Cup trial for Wynnum-Manly this weekend, but instead found himself vying for a berth in the Broncos team to play the Cowboys in round 1 of the NRL.
Dodds' selection for the Broncos against Redcliffe at Dolphin Oval tonight has put more established forwards on notice to perform or lose their spots for the March 12 match at Suncorp Stadium.
Broncos coach Ivan Henjak said yesterday Dodds had a great opportunity to gatecrash his way into the side for the Cowboys match.
"He's already done enough to warrant consideration," Henjak said. "He played for us in Rockhampton and then last Saturday against Canberra.
"He's a tradesman, on and off the field.
"He has to go to work straight after training. It's refreshing to see that.
Dodds was a rugby union centre at Brisbane's Iona College but played in the forwards for the Capalaba Junior League Club.
He played prop and second row for the Broncos under-20s in 2008-09 and was dual registered with Wynnum-Manly this year.
"I came through the Wynnum academy setup to the Broncos," Dodds said yesterday.
"I thought I would be playing for Wynnum against Burleigh this week.
"This is a big chance, but I have to perform.
"The game against Canberra was quicker than what I have been used to and the players were bigger.
"I'm the youngest of four brothers and we've all played league.
Henjak confirmed 18-year-old Corey Norman would start at fullback tonight even though Josh Hoffman (ankle) passed a fitness test yesterday. But Hoffman would replace Norman at some stage.
The other doubtful players, Tim Smith (ankle), Denan Kemp (ankle) and Scott Anderson (concussion), completed training yesterday.
Henjak said defence would be the priority tonight.
"We've been working on it all pre-season, so I just want to see commitment to that and making sure our discipline is good," he said.
"It's the last chance in a game to get ready for round 1, so we need to have all those little things right.
Cowboys forward signing Dayne Weston will play for Burleigh against Wynnum at Kougari Oval tonight.
BRISBANE: 1 Corey Norman 2 Antonio Winterstein 3 Gerard Beale 4 Israel Folau 5 Steve Michaels 6 Darren Lockyer (c) 7 Peter Wallace 8 Nick Kenny 9 Andrew McCullough 10 Sam Thaiday 11 Ben Te'o 12 Matt Gillett 13 Corey Parker 14 Ben Hunt 15 Tim Smith 16 Scott Anderson 17 Alex Glenn 18 Lagi Setu 19 Denan Kemp 20 Mitchell Dodds 21 Ashton Sims 22 Josh Hoffman.
REDCLIFFE: 1 Ryan Cullen 2 Mitch Rivett 3 Paul Ivan 4 Trent Clayton 5 Liam Georgetown 6 Chris Fox 7 Michael Wilson 8 Chris Farrell 9 Mick Roberts 10 Matthew Britt 11 Matt Handcock 12 Kris Kahler 13 Ben Jones 14 Tom Butterfield 15 Marty Hatfield 16 Tim Yee 17 Michael Spence 18 Greg Byrnes 19 Palmer Wapau 20 Derrick Watkins.
Kick-off 7.15pm.