***Capalaba Warriors Name & Logo*** "Conditions of use"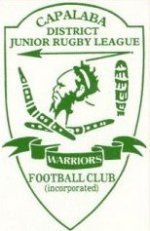 The Capalaba Warriors Logo and Name is a vital tool in identifying who we are, and all we take pride in wearing it and displaying it in our community. This said however it is also important that we protect it and monitor its use.
ALL future use of the Logo & Name must be approved by the Executive Committee. If your team wishes to use the Name and/or Logo in any form please have your manager submit your request in writing and e-mail it to capalabawarriors@internode.on.net or hand it to one of our executive members.
We would like to thank you for your co-operation.