Nines invitation letter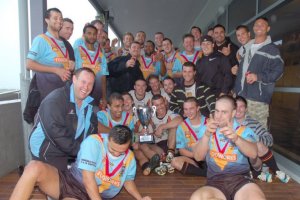 Dear___________________________,
The Kiama RLFC, are pleased to extend an invitation to your club to be part in the 2013 "Knights Nine Tournament". Participation is by invitation and it is felt that your club will offer the tournament the correct flavor.
Kiama is located 30 minutes south of Wollongong. Our two playing fields are adjacent to Kiama's Surf Beach, offering a picturesque backing for the tournament, in which the total prize is $8500.00
Teams can be made up of up to 18 registered players, with a maximum of 15 players competing in each game with 9 on the field at any given time and six on the bench. The Structure of 9's aligns much closer to the traditional 13 a side than what a 7 a side tournament will offer, allowing you to give your squad a solid hit-out.
The format for this year's tournament has been restructured from 8 pools of 3 to a new format of 4 pools of 5 (reducing the teams competing to 20 from the 24 teams that we have used in previous years). This allows all sides a minimum of 4 games guaranteed instead of the 3 guaranteed games under our previous format. Winners of their pool will advance to the Cup Stage, whilst runners up in the pool will proceed into the Plate competition.
The Event will be fully licensed, with Canteen and BBQ facilities open for the duration of the event, as we endeavor to provide a way for the Rugby League community to combine before Competitions begin. NO ALCOHOL WILL BE ALLOWED INTO THE GROUND AND NO BOTTLES OR GLASS WILL BE ALLOWED.
Entry to the ground will be $7.00 per adult and $5.00 concession. Children under 16 yrs of age will be free.
All players and officials will be required to pay to enter the ground. Pass-outs will be available throughout the day.
The first 20 teams from our limited invitation list to return both entry form & registration cheque will be accepted. The day has generated substantial interest, and spots will be filled quite quickly. For more information regarding the tournament in any regard, you can contact Paul Atkins via email on kiamachiro@ozemail.com.au .
Draws, Registration Forms * Insurance Documentations and all Competition Rules will be forwarded to your club, at the completion of the Entry Process.
The Kiama RLFC would like to emphasis this is a fully sanctioned CRL event, with Club registration & insurances on registered players extending to cover all players who 'sign on' for the day.
Yours faithfully
Paul Atkins
Kiama RLFC
Nines Management Committee
All Teams are reminded that the process is 1st in basis, and we recommend that teams get their forms in ASAP.